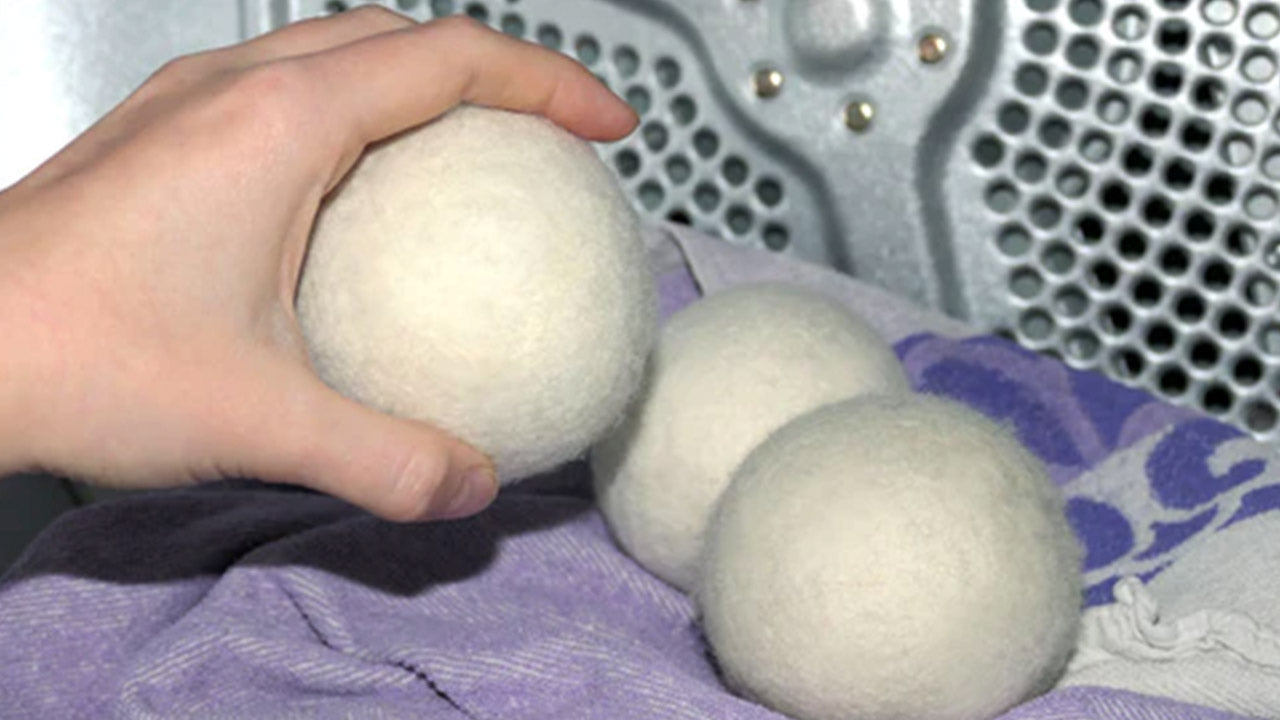 At Heritage Park Laundry Essentials, we believe high-quality bed, bath, and table linens are always a fantastic investment. With proper care, your luxury towels, sheets, and tablecloths should stay beautiful and perform well for years to come.
Fortunately, many luxury linen items can be easily laundered at home in your washer and dryer (of course, always follow individual manufacturer's directions). Along with using a laundry detergent specially formulated for luxury linen, we recommend ditching your dryer softener sheets and using our organic felted wool dryer balls to soften fabric and reduce dry time.
Why Use Wool Dryer Balls? Here are 10 Great Reasons to Swap Your Dryers Sheets for Eco-Friendly Dryer Balls
1. A wool dryer ball set saves you money
Over time, the cost of buying liquid fabric softener and conventional dryer sheets on a regular basis really adds up. A bag of six Heritage Park Wool Dryer Balls is good for more than 1,000 washes, and costs far less over time.
2. Save energy by using wool dryer balls
Wool dryer balls bounce around with your laundry, lifting and separating sheets, towels, and clothing (note: don't use dryer balls on super delicate fabric or anything that calls for "air only" dryer setting.). As they move apart, airflow increases which removes moisture and minimizes drying time. Unlike plastic dryer balls, the pure wool yarn fiber wicks moisture away, which also helps reduce drying times.
3. Save the environment (or at least, do your part)
Single-use dryer sheets wind up in landfills where they can take years to decompose, all the while polluting waste and water systems. Heritage Park's Eco-Friendly Wool Dryer Balls are sustainable and completely biodegradable (unlike a plastic dryer ball which is also a candidate for a landfill).
4. Eliminate waxy build-up
Single use dryer sheets, and fabric softer as well, leave a waxy coating on clothing and towels. This is particularly harmful for a bath towel, which will be significantly less absorbent. Wicking athletic clothing can also lose absorbency due to dryer sheets. Lastly, dryer sheets also deposit a waxy residue all over the inside of the dryer, particularly the lint filter, which is not good for the machine. Wool dryer balls leave no build up or chemical residue whatsoever.
5. Wool dryer balls are natural
Heritage Park Wool Dryer Balls are made from 100% organic New Zealand Wool.
6. Wool dryer balls do a great job
They soften clothes, bath towels, and bedding; minimize static cling; and reduce wrinkles. And who doesn't want to spend less time ironing?
7. Pure wool dryer balls don't contain fragrance or harmful chemicals
A dryer sheet is loaded with chemicals and fragrance. Natural wool dryer balls are completely unscented with no harsh chemicals that can irritate skin. This makes them wonderful for anyone with sensitive skin including allergy sufferers and babies.
8. Wool dryer balls are easy to use
Our wool dryer balls are about the size of tennis balls and can be used at any length and temperature drying cycle. We use three for a small dryer load or six for a large load. Toss them in the machine with your wet laundry and set the dryer cycle as usual. We store them right in the dryer so they're always at hand.
9. Wool dryer balls help bath linens last longer
A traditional dryer sheet is loaded with chemicals! With a set of wool dryer balls, your towels and bath mats will be spared the chemical build up (and loss of absorbency) caused by dryer sheets. At the same time, the motion of the balls during the drying cycle will restore the fluffy feeling to your towels' fibers while potentially shortening actual drying time (less time in the dryer is always better!).
10. Save 20 percent on dryer balls!
Save 20% off a six-pack of our wool dryer balls with code: WOOL20. It's a great time to put some of these amazing wool dryer balls in your laundry room!
Learn more about wool dryer balls, and learn more about caring for your luxury towels and bath linen.
About Heritage Park Laundry Essentials
Here at Heritage Park, caring for fine fabric and clothing is our passion. We found that while many of the commercially available "gentle detergents" could still harm fabrics, or they didn't get the job done, leaving tough stains such as lipstick, coffee, gravy, and salad oil stains. We believed we could do better. After more than a year of intensive research and product development, we created our first Heritage Park laundry detergent.
Our unique formulations have the perfect balance of powerful, yet safe, ingredients to remove tough, set-in stains while remaining gentle on clothing, bedding, towels, synthetic fabrics, and even heirloom linens. Heritage park contains NO sulfates, dyes, phosphates, chlorine, bleach, or caustics. It has a neutral pH and our Original Fragrance-Free wash has been dermatologist and pediatrician approved for those with sensitive skin or allergies. It is biodegradable and is Leaping Bunny Approved to be 100% cruelty-free and never tested on animals. Suitable for regular and HE machines, and proudly made in the United States. We also produce a line of laundry accessories. We are delighted to have you as our customer and welcome you to contact us toll-free at 800-977-1841 or info@heritageparklaundry.com with any product feedback or questions.