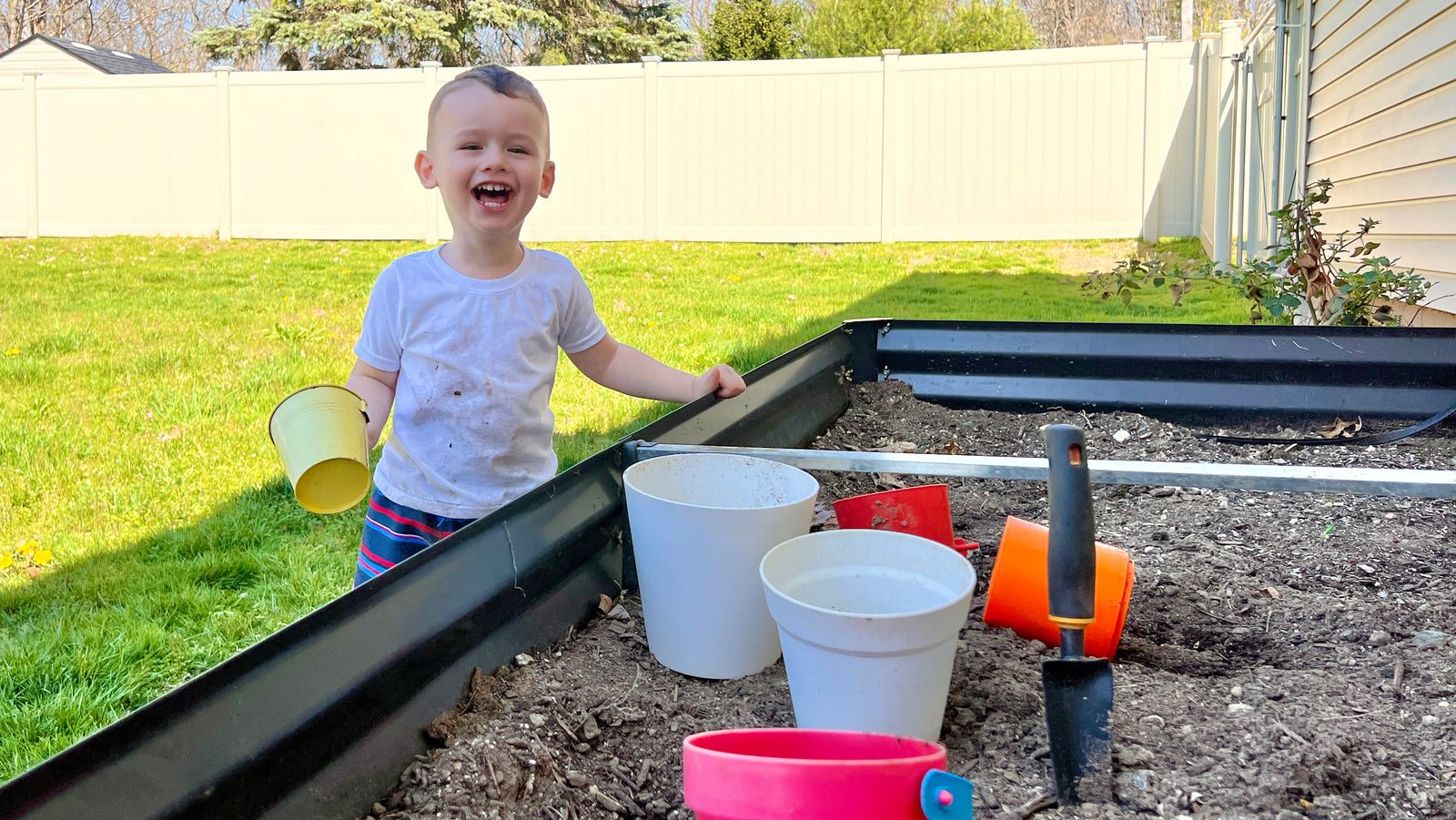 April showers bring May flowers…and all kinds of dirt. This article discusses how Heritage Park All Purpose Detergent is the ideal solution for safely and effectively tackling a weekend's worth of dirt, spills, and stains.
If you're reading this, Spring has surely sprung in your area. Birds are chirping, trees are blooming, and you can finally get down to enjoying outdoor fun without bundling up in five layers of warm clothing. But whether you're raking out your garden, taking in a Little League game, or pushing your car out of some newly defrosted mud (we see you, Vermont friends) one thing is for certain: Spring means getting dirty.
Here at Heritage Park, we say getting dirty is half the fun. And we do it worry-free, because we know that -- no matter what our weekend has in store -- our All-Purpose Laundry Detergent is here to safely and effectively tackle the stains of the season.
A Weekend's Worth of Fun -- and Stains!
Check out our typical weekend schedule and behold the mess in our busy wake:
What we're up to this weekend:

The very messy aftermath:

Raking out and weeding garden beds to prep for planting (just in time for National Gardening Day< on April 14)

Dirt, grass, dandelion stains

Hiking with the dog in the woods around the lake

Muddy paws, muddy pants

Spring sports have begun

Dirt, clay, grass, and perspiration stains

Emptying the attic and (at last!) putting our old set of dishes on the local share site

Clingy dust

Finally getting the training wheels off the littlest one's bike

Grease from the chain, dirt on knees and cuffs

Picking up coffee and donuts before Little League carpool. Watching the game, treating the team to celebratory ice cream

Coffee spilled on pant leg, jelly donuts on upholstery, infield dirt, blood (from an epic slide into third), ketchup or mustard from a stadium hot dog. Chocolate ice cream

Pizza and firepit with the neighbors

Pizza sauce and grease stains

Chocolate from dropped s'mores
If you're like us and excited to get that garden going, make sure to check out the Farmer's Almanac Planting Calendar for a guide on the best times to get those veggies in the ground!
Of course, if it's raining, a bit of the fun would be postponed. And what would we do instead? Probably suit up in our rain boot, jump through puddles, and search for worms. Bottom line? On any given Spring weekend, there's plenty of dirty laundry piled up by Sunday night.
Heritage Park All-Purpose Detergent: Enzyme Blend Tackles Tough Stains
Happily,Heritage Park All-Purpose Detergent is definitely up to the task. Along with a short list of plant-based ingredients ( check out our ingredients here) Heritage Park All-Purpose formula is made with a powerful blend of cleaning enzymes. Much like the digestive enzymes in saliva, these work together to break down and remove all those stains you had so much fun getting last weekend. The formula for our unique enzyme blend is top secret, but we're more than happy to share a bit about the enzymes we use and what they do:
Protease:

dirt, grass, sweat, blood, chocolate, dairy, milky drinks

Amylase:

sauces, dressings

Pectate lyase:

berries, fruits, jams, jellies, yogurt, smoothies, cosmetics

Mannanase:

ice cream, mayo, salad dressing

Lipase:

grease, oil, fats from meat, cooking oils
Washing your clothes in Heritage Park All-Purpose Detergent means unleashing the power of our detergent enzymes on even the toughest stains. You can learn more about how enzymes break down and remove tough stains here.
Heritage Park: Natural and Safe for People, Pets and the Planet
At the same time, Heritage Park All-Purpose Detergent is safe for every member of your family (we use it on our own families' laundry!). We are all about transparency, customer service, and safety. That's why Heritage Park detergents are made without dyes, phosphates, sulfates, chlorine, bleach, or optical brighteners. These harsh chemicals can damage fabric and -- even worse -- irritate delicate skin. Our pH-neutral detergent is made to be gentle on your laundry and even the most sensitive skin. Even better: our fragrance-free formula is lab-certified hypoallergenic and pediatrician and dermatologist approved. Heritage Park is also biodegradable, safe for septic and gray-water systems, and Leaping Bunny approved as cruelty-free and never tested on animals.
How to Treat Stubborn Stains (at Home and On the Go)
Washing your laundry in Heritage Park All-Purpose Detergent will go a long way toward removing stains and restoring clothes and linen to maximum beauty, softness, and comfort. But it's always a good idea to tackle a troublesome stain sooner than later, particularly if it is the kind that sets in to fabric. Here are a few suggestions for maximizing the enzyme cleaning power of your heritage park detergent:
Pre-treat. You can apply Heritage Park All-Purpose Detergent directly to the stain and gently rub it in, and let it sit for at least an hour. (You can even throw it in the hamper to work, which we regularly do when changing clothes between activities). You can also make an enzyme-spray with 1:1 ratio of water and Heritage Park All-Purpose Detergent in a spray bottle; liberally spray both sides of the fabric before leaving it to soak.
Pre-soak: Make a concentrated solution of Heritage Park All-Purpose Detergent and leave the item to soak in a sink, utility tub, or container.
Spot clean: Apply Heritage Park All-Purpose Detergent to a washcloth and clean cloth to tackle stains on clothing, linen, upholstery, rugs, car upholstery, backpacks, sneakers, and more.
More About Stain Removal (DON'T SKIP READING THIS, IT'S IMPORTANT!)
Always read care guidelines before washing; this blog will help you decode common laundry symbols. You should also try to identify the stain you are looking to remove, as some are better removed with cold water while others respond to warm or hot water. This stain removal guide is a good place to start. Finally, do NOT use our All-Purpose Detergent for regular washing of silk, wool, cashmere, or other protein-based fabrics and fibers; over time, the enzymes can break down the structure of protein-based fabric. For these, we recommend our Heritage Park Silk and Wool Detergent. With that said, we do believe it is safe to occasionally use our All-Purpose Detergent to spot treat or pre-soak stains on silk, wool, and cashmere. Always test first on an inconspicuous area.
As always, the Heritage Park Clean Team is here to help answer any laundry or stain-removal questions. We are ready to help!
Heritage Park Laundry Essentials
At Heritage Park, caring for fine fabric is our passion. As lifelong collectors of luxury sheets, towels, and cloths, we found many commercially available "gentle detergents" either damaged our fabrics or didn't get the job done, leaving stains. We knew we could do better. So we developed a formula with the perfect balance of powerful -- yet safe -- ingredients designed to remove tough, set-in stains while remaining gentle on luxury linens. Please connect with us at (800) 977-1841 or visit our store or email us with any product feedback or cleaning questions.