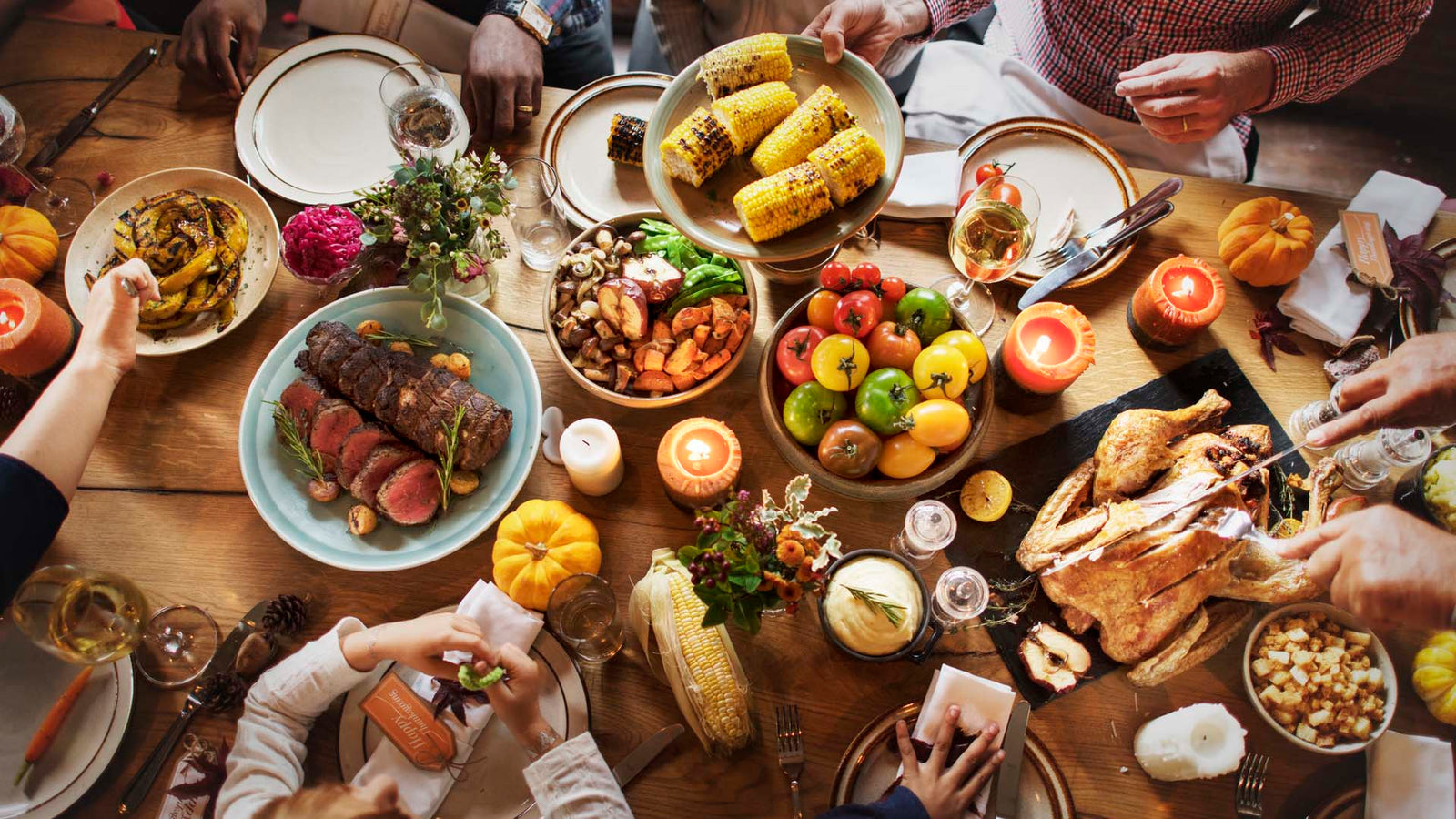 Inside this Article:
A whole holiday devoted to giving thanks for our blessings, feasting with loved ones, and watching football? Count us in (with maybe a little nap before dessert). But if you're the host or hostess, Thanksgiving dinner means a lot of work that can really cut into your good time. Trust us, we've been there. Hosting Thanksgiving for a crowd can be downright exhausting, and more than a little stressful. 
Here at Heritage Park Laundry Essentials, we think everyone should enjoy Thanksgiving (especially the host!). That's why we've put together this Thanksgiving countdown list of tips, gathered by trial and error over the years, for hosting a lower-stress Thanksgiving. Whether this is your first or twenty-first year as host, read on to learn how a little prep, a bit of help, and a few easy shortcuts can make your Thanksgiving Day easier and more fun for everyone.
In Early November:
1. Plan your Thanksgiving menu
Whether you've served the same favorite dishes for years or mixed it up, get your menu planned and sorted early. Get a rough guest list headcount (as best you can, given how unpredictable families can be). Dig out any recipes you haven't used for a while and start to prep shopping lists. If you're feeding folks with dietary restrictions or food allergies, do some research and ask questions ahead (many of these individuals are happy to contribute a safe side dish like this allergy-friendly green bean casserole or even an alternate main course). If you're trying a new recipe, test it ahead of time to see how it works (Thanksgiving Day is no time for experiments!). Think through your oven and stovetop space and write down what needs to be cooked, where, and when to get it all on the table at once (see below for advice on prepping ahead). And make sure to order your turkey!
2. Recruit help
We know, asking for help isn't always easy. But your Thanksgiving will go infinitely smoother if you share the work (and most family and close friends are happy to pitch in). 
We have a friend who hates to cook. On Thanksgiving, she provides her home, a beautifully set table with fine linen and centerpieces, and a wide selection of beverages; her family uses Google Docs to sign up to prepare and bring the turkey, sides, and dessert. So enlist your own team of helpers. Your sister makes killer mashed potatoes? Have her bring them! Your mother-in-law can't celebrate without her famous cranberry sauce? Perfect, double the recipe. And remember to recruit help for the day of, both in the kitchen (if you want it) and on the clean-up crew. You do NOT need to be standing in front of the sink by yourself.
3. Inventory and clean your table linens
Even the most casual of us like to dress up our table for Thanksgiving. And in some cases, it's been a few years since we've hosted a crowd. So dig out your table linen and check it over. You may realize that the "Great Gravy Incident of 2019" has left a few reminders on your tablecloth. Or that three of your twelve matching napkins have gone missing. If you need to replace your table linen, do it now (we love these SFERRA Festival Table Linens, 100% easy-care imported linen that you can mix and match in 100 shades for all seasons). Whether you're using new linens or your heirloom collection, wash them now while you have a bit of time; follow the directions on the care label and use Heritage Park All-Purpose Laundry Detergent for washing. This concentrated, pH-neutral formula is made with a powerful blend of enzymes and gentle ingredients to clean and care for fine table linen; it's perfect for cotton, linen, bamboo, and blends.
The Week Before Thanksgiving:
1. Shop and prepare some dishes ahead of time
Nobody wants to be in the store last-minute on Thanksgiving week. And no matter how well you plan, it's probably going to happen anyway when you realize you're out of an essential ingredient like pumpkin pie spice. But being thorough with your list and prepping in advance can minimize aggravation later in the game. Over the past several years, kids' schedules have made it challenging to devote the entire week of Thanksgiving to cooking. We've discovered that many wonderful Thanksgiving side dishes—including stuffing, gravy, and sweet potato casserole—are easy to prep ahead and even to freeze if need be. Just make sure to allow time to defrost before heating. As we mentioned earlier, this also takes the strain off the oven and burners when you're in go-mode on Thanksgiving Day.
2. Give yourself permission to take a shortcut
For years, we've gone to our local specialty supermarket on Wednesday morning to pick up an "oven-ready" turkey to cook on Thanksgiving. It has been prepped, dressed, and stuffed with aromatic herbs. It tastes delicious and is a huge time saver. We just unwrap and pop the tin in the oven according to the enclosed directions. This frees us up to focus on mashing potatoes, making centerpieces and—most of all—baking pies (and yes, we use pre-made pie crust when time is short). If baking isn't your thing, pick up a pumpkin or apple pie at your local bakery. No judgment on making the day easier for yourself.
3. Set the table
Placemats, China, flatware, crystal, and serving pieces (yay, you get to use your gravy boat). Get everything but the centerpiece done so you don't have to think about it.
4. Plan for Thanksgiving leftovers
This includes extra rolls and condiments to late-night and next-day sandwiches and possibly even disposable food storage containers that let you send your guests home with some goodies. 
5. Purchase all beverages, including alcohol
We like to lay in lots of extra beer, wine, and soft drinks before Thanksgiving. People are around all weekend to enjoy it, and whatever we buy will definitely get used (or gifted) during December. Even if guests are bringing adult beverages, stash a few extra bottles so you don't run short during the festivities.
On Thanksgiving Day:
1. Keep breakfast simple
It's a running joke in our family: nobody had better ask me for food the week of Thanksgiving. Of course, people need to eat, but we are not about making and cleaning up elaborate meals in the days up to Turkey Day. (The kids want pizza Wednesday night? Sure! Put on "Planes, Trains, and Automobiles" and call it a night.) That goes double for Thanksgiving morning. We make breakfast a simple affair with a bucket of bagels and move everyone out of the kitchen. Even better? Send them out for egg sandwiches. The point? No fuss, no kitchen clutter, no cleanup required.
2. Go easy on the appetizers
Some may disagree, but we think going light on the appetizers is a Thanksgiving power move. Honestly, unless your guests are showing up hours before dinner, you really need only minimal nibbles. After all, you want them to be hungry for dinner. Our family is of Italian heritage and snacking to ruin the Thanksgiving meal was simply not allowed; our tradition was to enjoy a light pasta course of small dishes of ravioli or manicotti an hour or two before we officially sat down. Of course, we love a good artichoke dip as much as the next gal, so by all means, put out your favorite snacks in reasonable amounts. Don't overwhelm yourself, your guests, or their appetites with heavy apps that can make a meal in themselves.
3. Set yourself up for stain-fighting success
Something is going to spill. This is a near certainty. So do yourself a favor and set up a stain-treatment station in your laundry or mudroom. Grab an enzyme stain treatment or make your own with a 1:1 ratio of Heritage Park All-Purpose Laundry Detergent and water in a spray bottle. Or, you can directly treat any stained linen by submerging in a concentrated pre-soak of Heritage Park detergent and water in your utility sink or bucket. Follow these guidelines:
Treat stains as soon as possible. Fortunately, many require soaking so this is not going to take you away from the table or festivities. Just get them sprayed or submerged ASAP.
Use an enzyme detergent to break down and remove food stains from cotton, linen, synthetics, and rayon. Learn more about laundry enzymes here.
Consult our stain-removal guide here for specifics.
Pro-tip: Have a large mesh laundry bag ready to throw in all your fabric dinner napkins to keep them together and easy to manage.
4. Remember the most important thing
Relax and enjoy the big day with your loved ones. That's what Thanksgiving is all about.
The Heritage Park Laundry Essentials team wishes you a peaceful and Happy Thanksgiving. And feel free to call us with any questions or for advice tackling stubborn stains. We are here to help!
Heritage Park Laundry Essentials
At Heritage Park, caring for fine fabric is our passion. As lifelong collectors of luxury sheets, towels, and cloths, we found many commercially available "gentle detergents" either damaged our fabrics or didn't get the job done, leaving stains. We knew we could do better. So we developed a formula with the perfect balance of powerful -- yet safe -- ingredients designed to remove tough, set-in stains while remaining gentle on luxury linens. Please connect with us at (800) 977-1841 or visit our store or email us with any product feedback or cleaning questions.