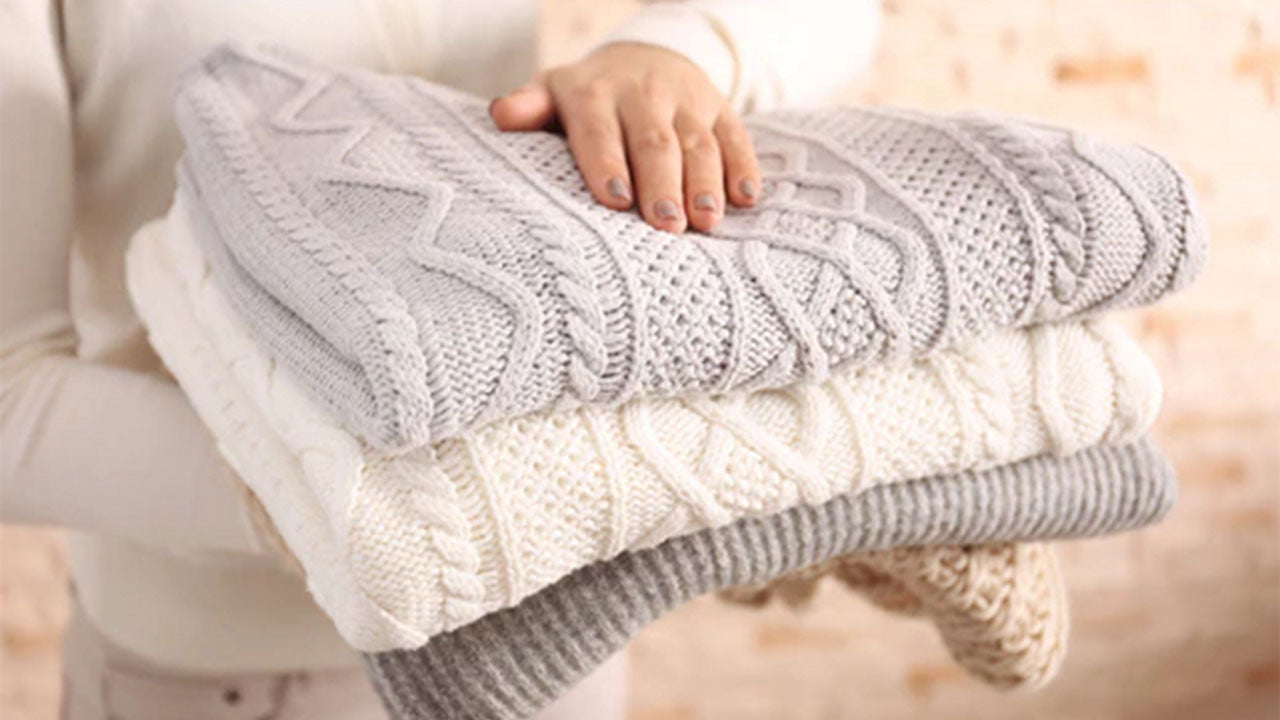 At Heritage Park Laundry Essentials, we love sharing tips, tricks, tools, and strategies to make your life in the laundry room easier! Today's laundry lowdown comes with some big news: Yes you can wash wool!
Washing wool by hand or in the washing machine is easy and affordable. (Just imagine all the lattes you can buy with the money you'll be saving at the dry cleaner!) Before we get into it, here are a few words to the wool-washing wise:
Not all wool is washable. Washable wool is indicated on the label (more on that in a bit).
Speaking of labels, find the care label on your wool garment or blanket and follow it!
Wool is a natural fiber and should be washed with gentle, enzyme-free detergent.
How you dry, store, and care for wool between washes can help it last longer (pro tip: don't even think about putting that sweater in the dryer!)
Can you wash wool?
Whether it's a wool sweater, wool blanket, merino wool socks or other wool garment, many wool products are indeed washable by hand or machine. Washable wool fiber has been specially treated to prevent it from felting and shrinking during the wash cycle, and is labeled as such.
The care label is your first and most important place to look when determining if your wool garment or wool blanket is washable. In addition to written directions, check for these symbols:
Do not wash: Your garment is not washable
Hand wash:
Machine wash gentle or delicate: The two lines under the wash tub indicate using a gentle or delicate cycle.
Wash in cool water: The single dot indicates a recommended wash temperature of 30 degrees C or 85 degrees F
Wash in lukewarm water: Two dots mean a recommended wash temperature of 40 degrees C or 105 degrees F
Dry Clean: Your garment or item must be dry cleaned.
As a general rule, your care label should be your blueprint as to whether something is washable or not. Of course, common sense also comes into the equation. You certainly wouldn't want to wash anything with a liner (like a skirt, blazer, or wool coat) or anything too heavy, no matter what the label says. If the care label says your item is machine washable and you are concerned about the weight, take it to a laundromat to avoid damaging your home machine; the commercial-grade front loaders at laundromats are made to handle big, bulky, items. Sweaters, lightweight throw blankets, and wool socks are usually fine to wash in your machine at home or, if handwashing, in a laundry tub or utility sink.
Many people ask how often they should wash their wool items. Our answer to this may sound a little strange coming from a laundry detergent company, but we recommend washing as little as possible! Why? Thanks to the lanolin in the wool fibres, wool clothing is naturally antimicrobial and doesn't really need to be washed all that often. For washable wool, we suggest skipping dry cleaning, washing occasionally, and airing out your items/spot treating stains as they occur. (Note: this advice doesn't apply to smelly wool socks. Of course you should wash those).
Choosing the right detergent to wash wool: gentle, pH neutral, enzyme-free
Selecting the right detergent to wash your woolen garments, blankets, and knitwear is absolutely essential. You will want to avoid washing these items with any commercial detergent, which contains harsh chemicals that can damage fine cashmere and wool fabric. Look for a wool wash that is a mild detergent, specially formulated to be pH neutral, and enzyme free like Heritage Park Luxury Silk and Wool Detergent.
Why should you choose an enzyme-free wool wash? Enzymes in laundry detergent are compounds that work to dissolve dirt and stains; they are particularly effective against protein-based stains such as egg, dairy, gravy, mud, blood, and other body fluids. However, because wool is itself a protein-based fiber, a detergent with enzymes can actually damage the chemical structure of the fabric. This is why an enzyme-free formula is the way to go. If you have a stubborn stain, you can spot-treat it with an enzyme detergent on an occasional basis, but be sure to test on an inconspicuous area of the fabric first. Learn more about laundry enzymes here.
How to hand wash wool
Read manufacturer's directions and follow them!
Run cool or lukewarm water into a bucket or utility sink
Add 1/2 to 1 cap full of Heritage Park Luxury Silk and Wool Detergent.
Swish to dissolve detergent.
Turn the item inside out, submerge, and swish around using a gentle "agitating" motion.
Soak for ten minutes, maximum.
Rinse thoroughly, do not wring out.
How to machine wash wool
Read manufacturer's directions and follow them (we know, we're repeating ourselves, but it's important).
Choose a wool or delicate/gentle cycle on your machine.
Add 1 to 3 caps full of Heritage Park Luxury Silk and Wool Detergent (for a single item, 1 cap should be sufficient. For a larger load of wool, 2 caps in a front loader or 3 in a top loader is more than enough).
Turn items inside out if possible.
Consider using fine mesh laundry bags to protect your items from any snags or burrs inside the washer tub. Learn more about mesh laundry bags here.
Run according to machine directions.
If need be, add a second rinse to cycle.
Do not wring out items.
How to dry wool
Most washable wool should not go in the dryer, no matter how tempting it may be to speed the drying process along. You should also never put a wool sweater on a hanger to dry, because it will stretch out of shape (trust us on this).
The best method for drying wool is to lay it flat on a clean dry towel or a specially made drying rack out of direct sunlight, which can cause the dye in wool to fade. Block, or reshape, the garment as needed while it's drying Avoid using any kind of outside heat source to dry your wool (space heater, radiator) as this can dry your item unevenly and even pose a fire hazard.
A wool blanket can be draped over a clothes line to dry, as long as it is out of direct sunlight.
How to care for wool between washes
Properly caring for your wool clothing and bed linen between washes will help it last longer and perform better over time. Follow these simple steps:
Air your wool out. This is one of the wonderful features of wool: taking it outside into fresh air is a great way to refresh it and release odors, especially from a blanket or sweater. Drape or hang your item in a dry place out of direct sunlight for a few hours to spruce up the scent. In bad weather, an indoor "air out" also works.
Spot clean any spills or stains. We recommend using Heritage Park Luxury Silk and Wool Detergent for this. If you have a stubborn stain, you can try using our Heritage Park Luxury All-Purpose Detergent to spot clean. However, this formula does contain enzymes which, over time, can degrade wool, so use sparingly and test on an inconspicuous area first.
Wool tends to pill with friction. Use a special wool brush or de-pilling comb to remove these pesky bobbles.
In the off season, store clean, folded sweaters, blankets and socks in a cotton bin or bag in a dark, dry space with cedar or lavender sachets to repel moths.
Why Choose Heritage Park Luxury Silk and Wool Detergent for Your Washable Wool
Made with plant-based ingredients, Heritage Park Luxury Silk and Wool Detergent is strong, effective, and safe for protein-based fibers like wool, cashmere, and even silk. It contains NO phosphates, sulfates, dyes, chlorine, bleach, or optical brighteners. This pH-neutral formula is packed with powerful cleaning ingredients to gently yet effectively clean all your fine washable woolens. Heritage Park Luxury Silk and Wool Detergent has been dermatologist-and lab-tested to be hypoallergenic and is Leaping Bunny certified as cruelty-free with no animal testing through any phase of production.
Heritage Park Laundry Essentials
At Heritage Park, caring for fine fabric is our passion. As lifelong collectors of luxury sheets, towels, and cloths, we found many commercially available "gentle detergents" either damaged our fabrics or didn't get the job done, leaving stains. We knew we could do better. So we developed a formula with the perfect balance of powerful -- yet safe -- ingredients designed to remove tough, set-in stains while remaining gentle on luxury linens. Please connect with us at (800) 977-1841 or visit our store or email us with any product feedback or cleaning questions.