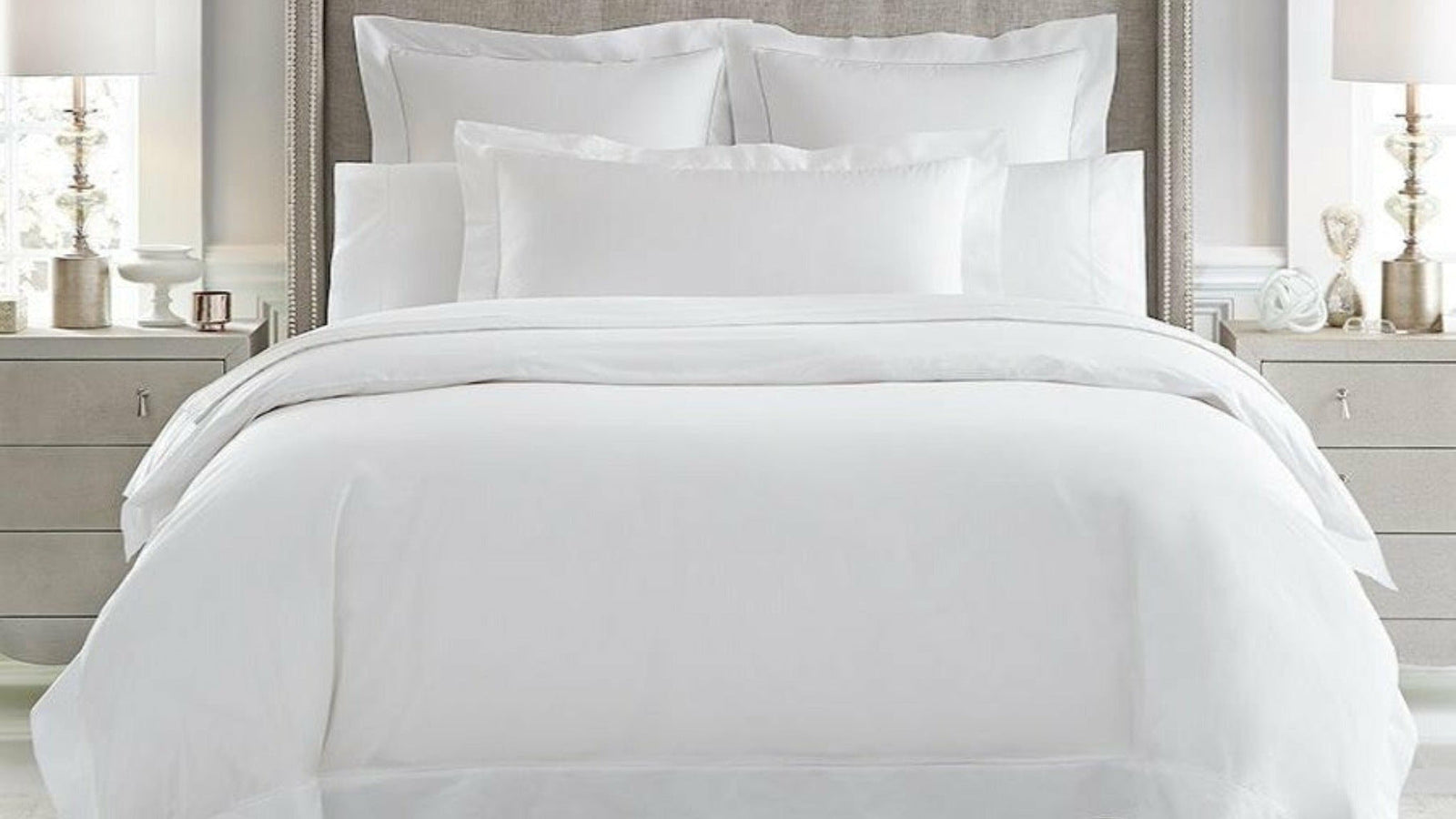 White sheets look and feel amazing, but they can quickly grow dingy and dull. This article offers solutions from the laundry experts at Heritage Park to keep your sheets white and looking their best.
Inside this Article:
Why Are White Sheets a Challenge to Keep Clean and Bright?
We love the cool, crisp look of clean white sheets. Not to mention how great they feel! But keeping those beautiful white sheets looking their best can pose a bit of a challenge. From makeup, hair products, and lotion to hard water, sweat stains, and natural body oil, your white sheets are under constant threat of growing dull, drab, and dingy.
So, what to do? First, don't even think about using chlorine bleach (we'll explain more about that later). Instead, read on to learn what the clean team and Heritage Park Laundry Essentials recommends for getting your bed sheets clean, bright, and sparkling white.*
Tips to Keep Your Sheets White and Bright
Sort your sheets: This is really Laundry 101. All wash should be sorted by color and even weight, but this goes double for white bedding, which should be washed in its own load with no colored items. Also be sure not to overload the washing machine.
Wash your sheets regularly: How often? Whenever they need it, but at least every other week. White sheets may need to be washed more frequently, particularly if you sleep hot or sweat. Bonus to regular washing: it keeps down dust mites and actually softens good cotton sheets.
Pick the best laundry detergent: You want to use a gentle detergent for washing your white sheets, since harsh commercial detergents can actually damage and degrade bed sheet fabric. Look for detergent made to care for and clean fine linen like our Heritage Park All-Purpose Laundry Detergent. This concentrated, pH-neutral formula contains a short list of plant-based ingredients and a proprietary blend of laundry enzymes made to remove dirt and stains.
Pre-treat stains: And do it sooner than later to prevent stubborn stains from setting in. Soak or spray, preferably with an enzyme-based stain remover, before the stain has a chance to set. Different stains respond to different treatments, so be sure to read your care directions and these tips for stain removal.
Kendra, Brand Manager at Heritage Park, offers this suggestion: "Make your own enzyme stain spray using a 1:1 ratio of Heritage Park All-Purpose Detergent and water. You can also use the detergent as a pre-soak or pre-treatment directly on the fabric."
Break out the baking soda and distilled white vinegar: We love these pantry staples for refreshing and reviving towels but they also work well to whiten sheets and remove yellow stains. You can experiment with different combinations but our general rule for brightening sheets is a half-cup of baking soda in the drum with your sheets and a half-cup of white vinegar in the fabric softener compartment. Your sheets will be brighter and smell fresher!
Note: Learn why you should NEVER use fabric softener or any type of dryer sheets on your laundry.
Try oxygen bleach. Unlike chlorine bleach -- which will turn your white sheets yellow -- powdered oxygen bleach works by releasing oxygen molecules to lift stains out of white fabric.
Turn up the heat on dirt by using hot water every second wash cycle. Most of the time, we recommend washing sheets in cool to warm water. But when it comes to getting white sheets nice and bright, hot water does work better.
"We always recommend following the manufacturer's instructions for washing sheets," Kendra notes. "But hot water really does work wonders when it comes to brightening up white sheets. If you are concerned, do a test wash with your pillowcase and evaluate the results."
Let the sun shine! Drying your white sheets outside on a clothesline is a great way to harness the natural bleaching power of the sun (this is why we don't recommend direct sunlight for colored sheets or any fabric that is prone to fading). If you're putting sheets in the dryer, skip dryer sheets; instead, soften and speed drying time with pure wool dryer balls.
Of course, you should also do your best to use common sense with white sheets:
Go to bed with clean hair, body, and face
Avoid eating and drinking in bed
Keep your pets off your bed
Thoroughly rub in all lotions and creams before getting in bed
*Note: these directions apply to white bed linen made of cotton, bamboo, rayon, linen, and blended sheets. Sheets made with natural fibers such as silk and cashmere should be laundered with care according to manufacturer guidelines and only with an enzyme-free detergent like Heritage Park Silk and Wool Detergent.
Heritage Park Laundry Essentials
At Heritage Park, caring for fine fabric is our passion. As lifelong collectors of luxury sheets, towels, and cloths, we found many commercially available "gentle detergents" either damaged our fabrics or didn't get the job done, leaving stains. We knew we could do better. So we developed a formula with the perfect balance of powerful -- yet safe -- ingredients designed to remove tough, set-in stains while remaining gentle on luxury linens. Please connect with us at (800) 977-1841 or visit our store with any product feedback or cleaning questions.