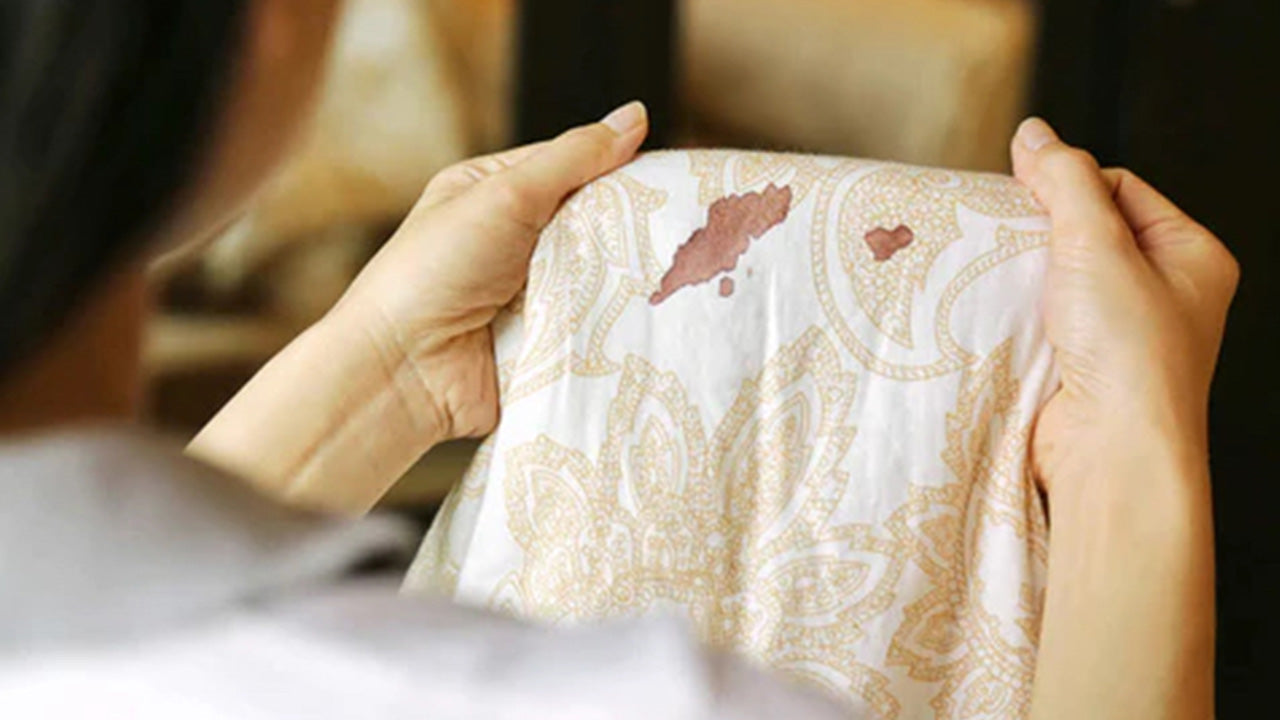 Sometimes life gets messy. Especially if you're having fun.
At Heritage Park Laundry Essentials, we say: don't sweat the stains. We believe fine fabrics are meant to be used and enjoyed, and that means picking up a few stains here and there. So, take a deep breath, and follow these simple stain removal tips to treat stains in a snap.
1. Read and follow manufacturer's directions for any fabric BEFORE treating any stain on a garment or linen. This is easy to overlook, especially after that glass of red wine splashes all over your new blouse, but it's super important. We recommend familiarizing yourself with care guidelines when you buy a new item, and not removing care labels; if you do, make sure you can easily locate them, as the care label should be your first stop before treating ANY stain.
2. Know what you're up against. This isn't always easy, but attempt to identify the type of stain you've got and refer to our stain removal guide for specifics. Knowing the type of stain is particularly important when it comes to water temperature; warm or hot water may be fine for removing some stains, but cause others (e.g., blood) to set further into the fabric. You will find common stain families are treated similarly. For example, a grass stain and mud stains require a pretreat and hot water wash; a grease stain or oil stain (butter, oil, mayo) can be washed with liquid dish soap; and cleaning a protein stain of any type (egg, blood) requires a period of soaking.
3. Treat stains as soon as possible. In reality, this may not be practical. But leaving a stain to permeate a fabric can make it more difficult to remove.
4. Blot, don't rub. It's tempting to tackle a stain vigorously, but this can actually cause a stain to spread further into the fabric. Your best bet is to first remove any solid (for example, a dollop of ketchup) and blot the stained area gently with a paper towel or clean cloth. If you're tempted to rub, go back and re-read the first sentence of this paragraph!
5. Rinse from the wrong side of fabric. The force of the water will move a stain out of the fabric, back to front.
6. Pre-soak and pre-treat. Whether you're soaking in a light solution of detergent or letting the item sit with a spray stain remover, don't skip this step. It requires a bit of time and patience, but many stains respond wonderfully to this treatment.
7. Eliminate the element of surprise. Check for stains prior to washing -- and especially drying -- your clothes and linen. A hot dryer, for example, can cause an untreated stain to set in.
When it comes to delicate fabrics, our general recommendation is to use the least invasive method and work up from there; a blood stain, for example, may rinse out of a fabric by running it under cool water, thus avoiding the need for any rubbing or spot treatment with detergent. Also, we don't recommend using dry cleaning solvent yourself, so definitely consult a professional dry cleaner about any stubborn stain (of course, the dry cleaner should be your first stop for any fabric that says dry clean only).
For regular laundering and stain treatment, we suggest keeping a few stain-removing essentials* on hand, including an enzyme-based liquid laundry detergent such as Heritage Park All-Purpose Laundry Detergent, along an enzyme-free formula for delicate fabrics, such as Heritage Park Fine Silk and Wool Detergent.
*These include such items as an enzyme-based stain remover, baking soda, hydrogen peroxide, oxygen bleach, chlorine bleach, white vinegar, lemon juice, salt, club soda, bar laundry soap, liquid dish detergent
Welcome to the World of Heritage Park Laundry Essentials
Here at Heritage Park, caring for fine fabric is our passion. As lifelong collectors of luxury sheets, towels and table linens, we found that while many of the commercially available gentle detergents could still harm fabrics, or they didn't get the job done, leaving tough stains such as lipstick, coffee, gravy, and salad oil stains. We believed we could do better and decided to fill that need. After more than a year of intensive research and product development, we created Heritage Park Laundry Essentials.
Our unique formulations have the perfect balance of powerful, yet safe, ingredients to remove tough, set-in stains while remaining gentle on clothing, bedding, towels, synthetic fabrics, and even heirloom linens. Heritage park contains NO sulfates, dyes, phosphates, chlorine, bleach, or caustics. It has a neutral pH and our Original Fragrance-Free wash has been dermatologist and pediatrician approved for those with sensitive skin or allergies. It is biodegradable and is Leaping Bunny Approved to be 100% cruelty-free and never tested on animals. Suitable for regular and HE machines, and proudly made in the United States. We also produce a line of laundry accessories including pure wool dryer balls, mesh wash bags, and more. We are delighted to have you as our customer and welcome you to contact us toll free at 800-977-1841 or info@heritageparklaundry.com with any product feedback or questions.