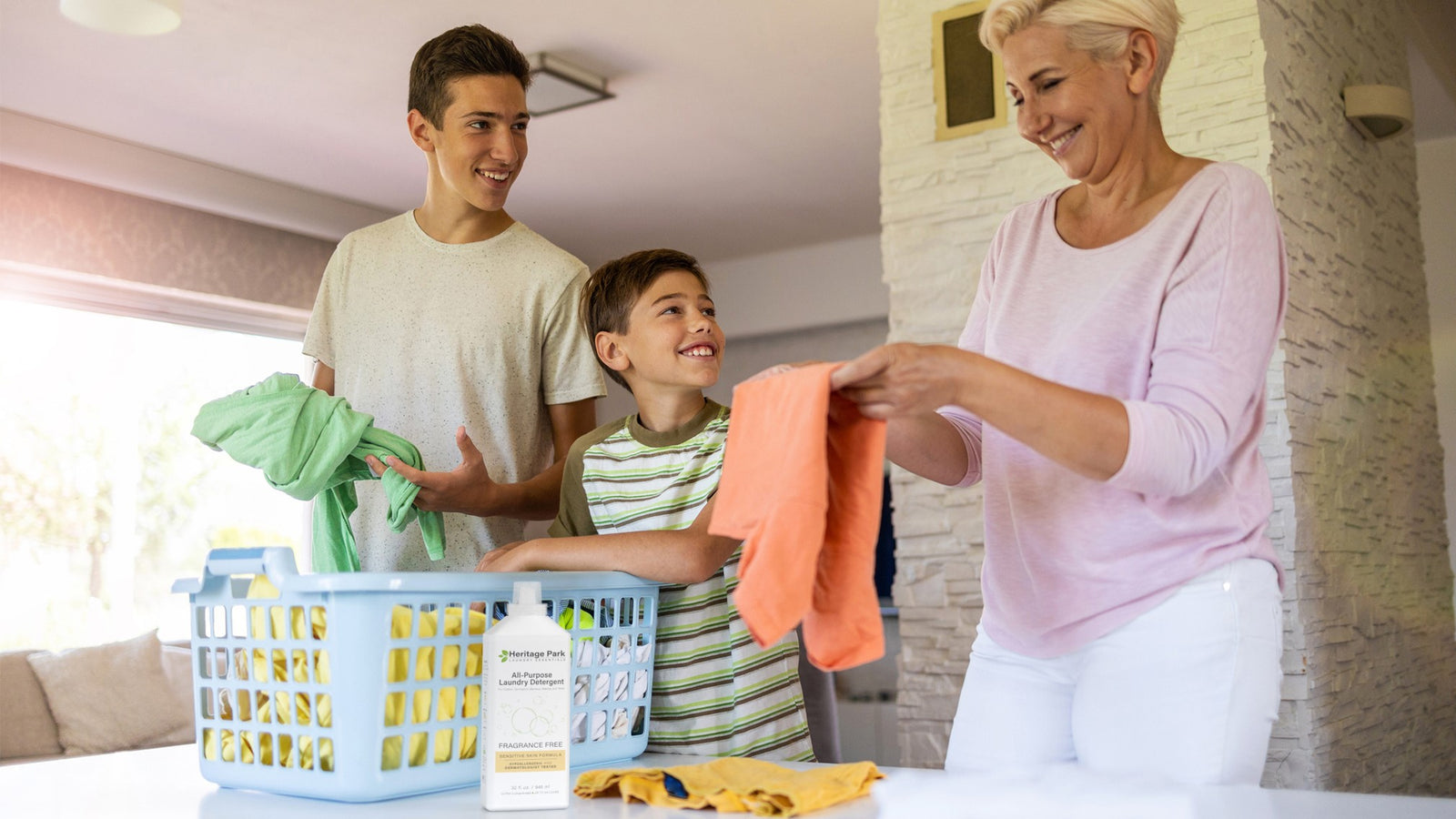 If you're like us, you're still enjoying those lazy days of summer. But somewhere, in the back of your mind, you've started dreaming of Fall. (Cool mornings. Leaves. Don't make us say it but maybe even a Grande PSL after school drop off). 
Of course, all that also means getting your family cleaned, prepped, organized, and ready to face the school year. It's no small task. There are haircuts, first-day outfits, class assignments, schedules, and school supplies to be sorted out. Along with that nagging question that's been haunting you for a while now: has that backpack been opened since June? (Spoiler alert: nope.)
Not to worry: we see you. And the Heritage Park team is here with your back-to-school cleaning checklist. Follow these cleaning tips and you'll be breezing into September like a boss.
Heritage Park All-Purpose Laundry Detergent: Safe, Effective Clean for Your Family
At Heritage Park Laundry Essentials, we've got families of our own, and safety always comes first. That's why we've developed our All-Purpose Laundry Detergent to be the ideal combination of safety and effectiveness in a product that is also gentle on clothes, skin, and the environment. Our rigorous stewardship guidelines mean we produced only the purest laundry cleaning products:
Concentrated, pH-neutral detergent formula won't irritate your skin
The All-Purpose Fragrance-free formula is lab-tested to be hypoallergenic by AMA laboratories, as well as pediatrician tested and dermatologist tested.
Powered by plants. Our detergents are made with a short list of natural and naturally-derived plant-based ingredients.
Made without harmful chemicals. We never use dyes, phosphates, sulfates, chlorine, bleach, and brighteners in our detergent.
Biodegradable and septic- and grey water safe
Leaping Bunny approved as never being tested on animals
Heritage Park All-Purpose Laundry Detergent is safe for people, pets, and the planet. Yet with all that, we never sacrifice on clean. Our detergent is made with a proprietary blend of five powerful laundry enzymes that break down and remove tough stains:
Protease (Subtilisin): Protease enzymes target protein, including food stains such as egg and milk; a mud or grass stain; and blood and other body fluids.
Alpha-amylase: These enzymes are formulated to remove starch stains left by gravy, cereal, or pasta.
Pectate Lyase: Pectate lyase enzymes attack stains left by fruits and vegetables.
Lipase: Lipase enzymes work on greasy food stains such as butter and oils and on other oil-based stains such as from lipstick or certain cosmetics.
Mannanase (Mannan endo-1,4-beta-mannosidase): This enzyme attacks mannans, a form of sugar used to thicken and stabilize food items such as ketchup and ice cream and personal care products like deodorant.
You can learn more about how laundry enzymes work here. But rest assured that we've formulated Heritage Park All-Purpose Detergent to care for your family's clothes, linen, and sheets at every stage and age, from infancy through adulthood! (Click to learn more about Heritage Park Baby and Toddler Laundry Detergent and Silk and Wool Laundry Detergent).
For now, let's take a look at getting back-to-school ready.
The Backpack
We've got to face it sometime: that backpack on the floor of the mudroom, tossed on a shelf in the garage, or maybe kicked under the bed. Our favorite school backpacks are from L.L. Bean; they last forever and look like new after a good machine wash. (One of our daughters used the same L.L. Bean backpack from preschool through fifth grade and it still looks great!) Pre-treat any stains or spots with a dab of our detergent and place the backpack in a large mesh laundry bag to protect the zippers, buckles and straps. Wash on a gentle or normal cycle with two capfuls of Heritage Park All-Purpose Detergent for a deep cleaning. If your washing machine is high efficiency, consider adding an extra rinse cycle or running a second time without detergent. And when you're stocking the backpack, throw in some hand sanitizer to control all those school season germs students pick up on door handles, faucet handles, locker rooms, and other high touch surfaces around the classroom. (And maybe toss in an extra for your child's teacher or school cleaning staff). You can also spot clean stains on the backpack (see below).
The Big Wash
Is it just us, or do all kids grow like weeds over the summer? It's shocking how everyone seems to need to size up. It's a good thing so many states offer tax-free weeks to stock up on outgrown wardrobe essentials. 
As you incorporate your new purchases from back-to-school shopping, get your kids in on the organization act. Take a good look at what clothing from last year still fits (their bodies and their tastes!). Hand down wearable items or donate through a worthy organization like Give Back Box or, for items that are too worn to wear, consider textile recycling. 
 Now that everyone's feeling great, get ready to look good with "the big wash" of all your new items:
Follow care instructions on new garments
For best results, sort by color and weight 
Wash new clothing on a gentle cycle using Heritage Park All-Purpose Detergent
NEVER use fabric softener or dryer sheets, as these cause a waxy build-up on your garments and your machines
Avoid chlorine bleach unless specifically stated on care guidelines or as needed for disinfection; we recommend using only oxygen bleach and even then, sparingly
Dry garments on the lowest heat possible to prevent damage and shrinking
Use wool dryer balls to soften and speed dryer time
Salvage the Sneakers 
Our kids are totally sneaker-obsessed! With how fast they grow -- not to mention their pricey taste in footwear -- we try to get as much life as possible out of the summer sneakers before transitioning to new fall kicks. But after a long, sweaty, summer, their sneakers need some serious cleaning. Fortunately, most sneakers can be machine washed (pro tip: only wash sneakers in a generously sized front-loading machine. If your home washer is too small or is a top-load model with an agitator, make a trip to the laundromat). The odor-fighting enzymes and light scent of our Lavender Mist or Shore Breeze formulas will leave sneakers smelling sweet!
Set Yourself Up for Stain-Fighting Success
We can't say this enough: Acting fast is the key to tackling tough stains. The sooner you treat them, the less likely it will be for them to set in. So, with all the new stains about to come your way -- mud from the playground and soccer field, fast-flowing cafeteria mustard, maybe a splash of pumpkin spice latte on your favorite shirt -- it's a great time to set up spot in your house with the tools you need for spot treating and pre-soaking grimy gear and clothing.
Spot treat: Spot treating is great for dirt or stains you can't get into the wash or for items that don't wash well like lunch boxes, backpacks between washes, cooler bags, reusable grocery bags, or the many drawstring totes your family uses. You can dab these with our All-Purpose Detergent either straight out of the bottle or a diluted 1 to 1 mix with water. Prepping a spray bottle ahead of time is a good idea for blasting stains that you're not planning to wash right away. (Note: you can also use Heritage Park All-Purpose Detergent for spot carpet or upholstery cleaning).
Pre-soak: Our detergent can also be used as a pre-soak for bigger stains. Dedicate a bucket, basin, or utility sink and throw the stained item in a solution of one capful of detergent per gallon of water. Allow to soak until you're ready to wash.
Sheets and Towels
In our humble opinion, Fall Cleaning is very underrated and deserves at least some of the attention we give to the Spring. The start of cooler weather is a great time to give your summer sheets a good wash before storing away for the season while also running your heavier, cool weather sheets through the wash before setting up your "winter bed." You'll also want to wash your beach towels before storing for the season; while you're at it, remember to rotate your bath towels to help them wear more uniformly. 
Follow these guidelines for washing sheets and these for washing and refreshing your bath towels.
Welcome to the Heritage Park Family
If this is your first contact with Heritage Park, we're thrilled to welcome you to the Heritage Park Family. We never get tired of talking about laundry, doing laundry, and answering questions about laundry. Feel free to contact us with any concerns or inquiries! In the meantime, check out our blog, The Laundry Lowdown, particularly this piece on how to choose the safest detergent for your family.
Heritage Park Laundry Essentials
At Heritage Park, caring for fine fabric is our passion. As lifelong collectors of luxury sheets, towels, and cloths, we found many commercially available "gentle detergents" either damaged our fabrics or didn't get the job done, leaving stains. We knew we could do better. So we developed a formula with the perfect balance of powerful -- yet safe -- ingredients designed to remove tough, set-in stains while remaining gentle on luxury linens. Please connect with us at (800) 977-1841 or visit our store or email us with any product feedback or cleaning questions.