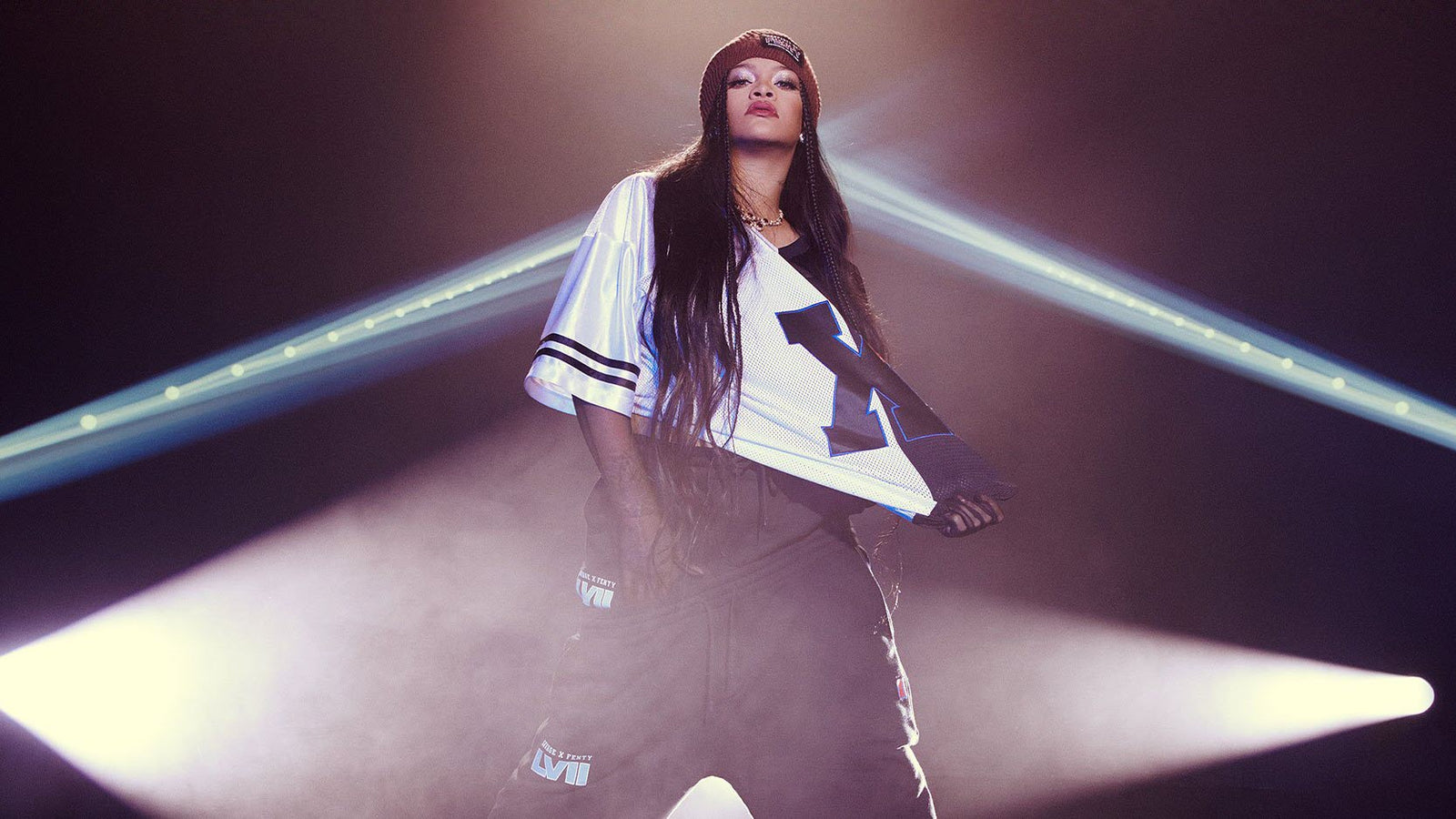 The 2023 Super Bowl halftime show was a great showcase for Savage X Fenty, Rihanna's billion dollar fashion brand. And while Savage X Fenty gear is mostly washable, it deserves a bit special care. This article offers easy-to-follow tips and instructions for washing Rihanna's signature lingerie, active wear, and lounge apparel.
A Super Bowl Show with Style to Spare
Whether you had skin in the game (sending you love, Philly) or tuned in for the ads and the entertainment, Sunday's broadcast was anything but dull. The game had plenty of turnovers, a close score, and at least one (ahem!) questionable call. Even more exciting? It was the ladies' turn to make history with the first-ever all-female Navy flyover squad; Donna Kelce supporting a son on each team (in our opinion, she's the real MVP); and, of course, Rihanna, bringing down the house and breaking yet another glass ceiling as the first pregnant halftime show headliner (sixty feet in the air no less! Go, RiRi!)
And after we (and a few million others) almost broke the Internet on Rihanna bump watch, we jumped over to Savage X Fenty to score some swag from her limited-edition Game Day drop. We've been big fans of Savage X Fenty for a while now. This stylish, size-inclusive brand offers well-priced, good-quality bras, lingerie, sport wear, lounge and sleepwear, and even a men's collection. We love the vibe, the edgy look, and the price points.
As laundry experts, the Heritage Park team knows firsthand that taking great care of our Savage X Fenty – whether it's our favorite sports bra and leggings or a sweet lacy panty – is key to keeping any fit looking its best. Read on for simple tips from our Clean Team on washing your Savage X Fenty lingerie and activewear.
Choose the Right Detergent for Savage X Fenty
Your first step in taking care of your Savage X Fenty is choosing the best detergent. Commercial or grocery store detergents can contain harsh cleaning chemicals that can damage delicate fabrics and irritate the skin. On the other end of the spectrum, many "gentle" detergents often don't get the job done.
Heritage Park All-Purpose Detergent is different. Made with a short list of plant-based ingredients, Heritage Park All Purpose Detergent is powered with natural cleaning enzymes that remove dirt and stains while protecting fabric. Our detergents contain no dyes, sulfates, phosphates, chlorine, bleach or brighteners. They are biodegradable, and Leaping Bunny approved as never being tested on animals. Our All-Purpose Formula comes in lightly fragranced Lavender Mist, Shore Breeze, and Spring Magnolia scents, as well as a Fragrance-Free formula that is lab-certified hypoallergenic and pediatrician- and dermatologist-tested (it won't irritate even the most sensitive skin!).
How to Wash Savage X Fenty Lingerie
Some Savage X Fenty lingerie is super delicate, so read the care label and follow the directions. Items with lace, underwire or other adornments may need to be washed by hand. You can remove any straps or adornments before you start. Fill your sink or small washbasin with cool or lukewarm water with a small amount of Heritage Park Detergent. Put the item in and gently swish it around. Leave it to soak for no more than five minutes, rinse in cool water, and blot dry with a towel (never wring). Hang or lay flat to dry.
To machine wash your Savage X Fenty lingerie, follow these directions:
Pre-treat stains (use a 1:1 solution of our enzyme detergent and water or pre-soak in a concentrated solution of our detergent)
ALWAYS put your items in a lingerie bag, also known as a mesh laundry bag. This protects delicate fabric from tearing and snagging inside the machine. Learn more about how and why to use a mesh lingerie wash bag here. Put no more than two or three items in each bag (depending on size) and don't overload your machine).
Add the appropriate amount of Heritage Park detergent (NEVER use bleach, which will discolor your lingerie or fabric softener/dryer sheets which leave a
Use a delicate wash cycle and cool or lukewarm water. 
Hang your items to air dry away from direct sunlight on a drying rack or dry them on a clean white towel. NEVER put Savage X Fenty in the dryer, as heat will break down the elastic and embellishment.
Use these same instructions for washing your lingerie and delicate loungewear. These items may not require a mesh laundry bag.
How to Wash Savage X Fenty Active Wear
When it comes to sweaty activewear, Heritage Park detergent really comes through. Our proprietary laundry enzyme blend is made to break down and dissolve dirt and stains, including protein-based stains like sweat. And while your Savage X Fenty workout gear is perfect for making an all-day style statement, we assume that you – like us – wear it to the gym. And that means sweat. So follow these directions for getting your Savage X Fenty sport gear clean, fresh, and beautiful.
Read the care label (we are repeating ourselves, but it's important!)
Get out of your sweaty gear ASAP. Yes, we know it's gorgeous, and you're tempted to run errands, etc. after a tough morning at the gym. Buts sweat and stains can soak into exercise clothes and become harder to remove. Also, staying in sweaty workout clothes is bad for your skin; wet workout gear is the perfect breeding ground for yeast, fungus, and bacteria all of which can lead to skin irritation.
Air out your Savage X Fenty gym clothes. Avoid putting your sweaty activewear back in a gym bag, which is the perfect breeding ground for germs.
Pretreat and Presoak stains as soon as possible. Pre-soak in Heritage Park All-Purpose Detergent or make an enzyme spray with a 1:1 ratio of Heritage Park All Purpose Laundry Detergent and water in a spritz bottle. If you're on the go, think about getting an enzyme stain-treatment stick.
Wash your Savage X Fenty exercise gear in its own load. Heavier items like jeans can damage exercise clothing in the wash.
Use the proper amount of Heritage Park All-Purpose Detergent. 
Use a mesh bag for bras and delicates. Turn your sports bra and other delicate items inside out and put them in a fine mesh laundry bag to protect it during the wash cycle.
Use a gentle cycle and cool to warm water. Resist the temptation to blast your sweaty Savage X Fenty gear with hot water, which is not good for performance fabric. Check out our guide to laundry machine cycles and settings here.
As always, skip the bleach, fabric softener, and dryer sheets. Just, no.
Lay your gear flat or hang dry.
Skip the Dryer for Your Savage X Fenty Pieces
Almost all Savage X Fenty clothing suggests line or hang drying. And there's a good reason for that: the heat from the dryer damages delicate fabric and degrades the "stretch" in performance gear. So dedicate a space for drying your Savage X Fenty lingerie and clothing, either a drying rack or a table with a clean white towel (for items that won't pick up lint). This is a bit of effort, but it will pay off in the beauty and longevity of your Savage X Fenty gear.
Of course, the Heritage Park Clean Team is available to answer your questions about caring for any type of lingerie, clothing, or home linen. We are here to help! Reach out any time.
Heritage Park Laundry Essentials
At Heritage Park, caring for fine fabric is our passion. As lifelong collectors of luxury sheets, towels, and cloths, we found many commercially available "gentle detergents" either damaged our fabrics or didn't get the job done, leaving stains. We knew we could do better. So we developed a formula with the perfect balance of powerful -- yet safe -- ingredients designed to remove tough, set-in stains while remaining gentle on luxury linens. Please connect with us at (800) 977-1841 or visit our store or email us with any product feedback or cleaning questions.