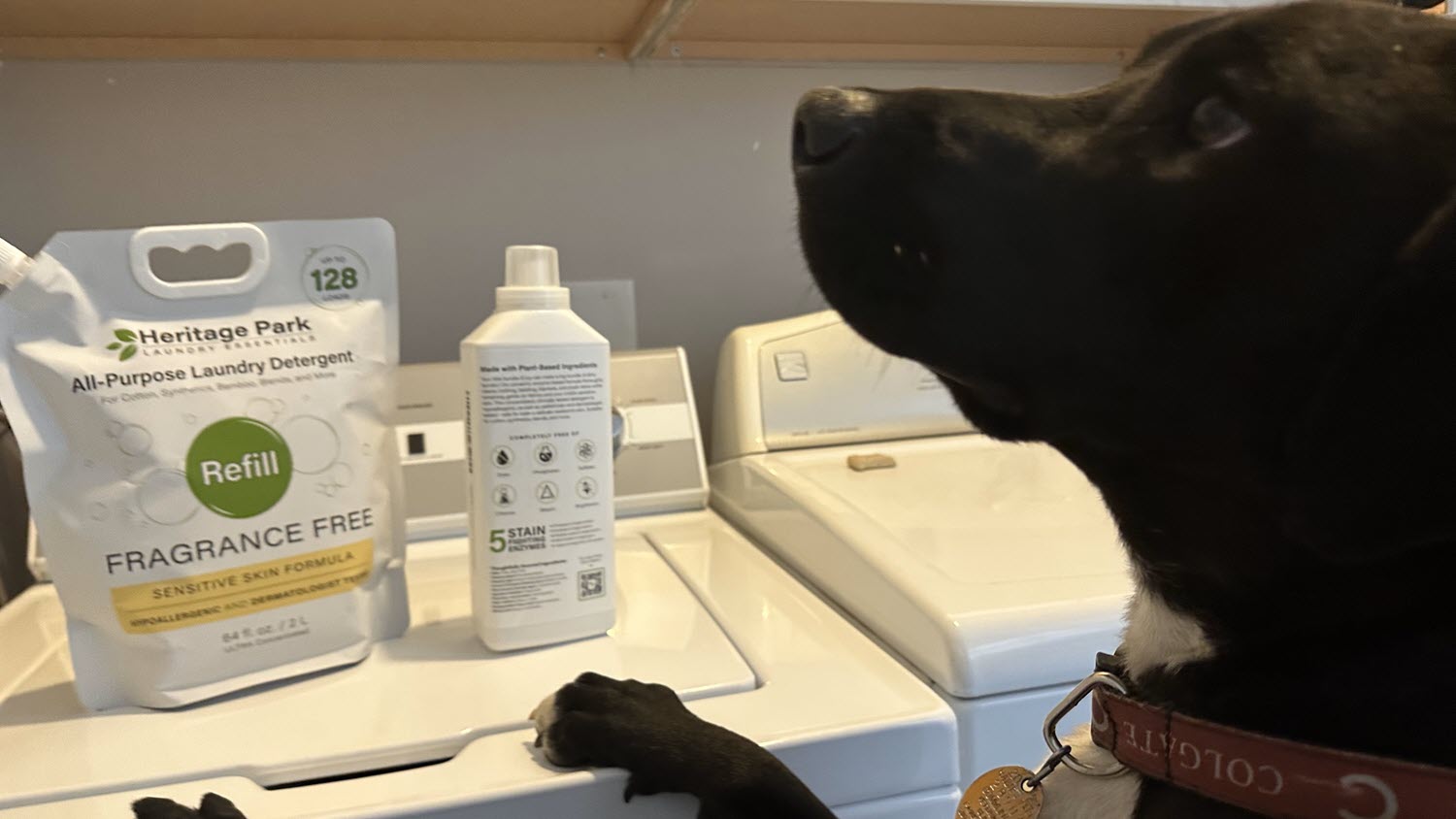 If you've got beloved four-legged family members, this blog is for you. Just like humans, your pets are susceptible to allergies and skin irritation. Just in time for National Rescue Dog Day on May 20th, this article explains why you should use hypoallergenic laundry detergent for pet accessories and gear.
Inside this Article:
It's no secret that all of us at Heritage Park Laundry Essentials are passionate about laundry. As proud laundry nerds, washing things is both our professional interest and our hobby. But why we care so much is even more important -- creating laundry detergents that clean effectively while being safe for people, pets, and the planet. Read about our commitment to family-safe detergent products.
Along with using a short list of natural, plant-based ingredients, our products are Leaping Bunny approved as never being tested on animals. Truly, we wouldn't have it any other way. Our pets are treasured members of our families. And their needs and well-being are always a priority. Just like humans, pets can suffer from seasonal, environmental, and contact allergies. To minimize exposure to irritants, we use Heritage Park Fragrance-Free All-Purpose Laundry Detergent -- our hypoallergenic formula--to clean their beds, toys, and gear.
What Is Hypoallergenic Detergent?
First, we want to clarify that our Heritage Park All-Purpose Detergent, Fragrance-free formula, is lab-certified as hypoallergenic for people. However, that hypoallergenic certification means that our detergent is made without fragrances, harsh ingredients, and chemicals:
NO fragrance or dyes: a clear laundry detergent works just as well and any perfume, especially artificial fragrance, can irritate skin.
NO phosphates: used to soften hard water but not good for people/environment.
NO sulfates: used to create foam in laundry products (as well as shampoos and dish soap) but not necessary for cleaning.
NO chlorine or bleach: used to disinfect and lighten but highly irritating;
NO brighteners: synthetic chemicals used to make laundry appear brighter.
Our fragrance-free detergent is also pediatrician- and dermatologist-tested. Our pH-neutral formula is pure, gentle, and safe enough to use even with baby clothes and bedding, so we are confident in suggesting it for your pets' laundry too. At the same time, Heritage Park All-Purpose Detergent contains a powerful blend of cleaning enzymes to naturally dissolve and remove tough stains. Learn how our proprietary blend of cleaning enzymes works.
Why Use Our Hypoallergenic Detergent for Pet Gear and Accessories?
Using our hypoallergenic detergent on your pet beds and accessories is a good idea for multiple reasons:
Allergies: Just like humans, pets can be allergic to certain substances, including the chemicals and fragrances found in many standard laundry detergents. Our gentle, non-irritating formula can help reduce that risk
Skin irritation: Even if your pet is not strictly allergic to the ingredients in standard detergents, the chemicals and fragrances used in standard detergents can still cause skin irritation and dryness. This can lead to itching, redness, and discomfort, which can be especially problematic for pets with pre-existing skin conditions. Dogs in particular will chew at irritated skin, causing it to become raw, inflamed, and even infected. 
Respiratory issues: The fragrances and chemicals in standard laundry detergents can also cause respiratory issues for pets, especially those with respiratory conditions such as asthma. Hypoallergenic detergents are typically fragrance-free and contain fewer harsh chemicals, which can help reduce the risk of respiratory issues.
Environmental concerns: Many standard detergents contain harsh chemicals that can be harmful to the environment. By using a hypoallergenic detergent, you can help reduce your pet's impact on the environment while still keeping their bedding and accessories clean and fresh.
Overall, using hypoallergenic detergent on your pet's bedding and accessories is a simple and effective way to help keep your pet healthy and comfortable while reducing the risk of allergic reactions, skin irritation, respiratory issues, and environmental harm.
How to Use Detergent For Cleaning Your Pet's Gear and Toys
Based on our personal experience as pet people, Heritage Park All-Purpose Detergent is great for doing all sorts of pet laundry:
Blankets and pet beds
Dog towels
Leashes, collars, and harnesses
Favorite plush toys
Sweaters/jackets
We also protect our pets by using Heritage Park All-Purpose Fragrance-Free formula to spot clean our upholstered furniture (yes, we allow the dog on our couch and, unsurprisingly, the cat goes wherever she wants) and in our carpet cleaning machine as a non-toxic, non-irritating, rug detergent. 
Use Detergent for Select Pet Messes
Of course, anyone who has owned a pet knows that they can make some pretty big messes themselves. And when it comes to removing pet urine or feces from carpeting or upholstery, we generally defer to the products made for this purpose. We particularly like Nature's Miracle because these products are formulated with enzymes to dissolve the stains and remove the scent to prevent your pet from repeat marking.
With that said, we use Heritage Park All-Purpose Detergent to effectively spot clean other types of pet messes from carpets and furniture, including tracked-in dirt and mud; hairballs and spit up; drool; treat and chew toy mess; food and beverage spills from a case of the zoomies; and more. Heritage Park is also wonderful at removing normal pet smells from rugs, blankets, and furniture while protecting the look and integrity of the fiber. Personally, I use it in my Bissell Spot Bot and it works amazing on my senior dog's 'accidents'. 
Use a Pet Safe Hypoallergenic Detergent to Wash:
Pet Gear
Blankets
Pet beds
Towels
Collars, Harnesses, Leashes
Soft Toys
Pet Sweaters
Pet Booties
Pet Clothing
Use a Pet Safe Hypoallergenic Detergent to:
Spot cleaning furniture
In carpet cleaning machines
Tracked in dirt and mud
Hairballs, spit up, drool
Mess from bones, treats, and chew toys
Spills
Pet smells
Heritage Park Laundry Essentials
At Heritage Park, caring for fine fabric is our passion. As lifelong collectors of luxury sheets, towels, and cloths, we found many commercially available "gentle detergents" either damaged our fabrics or didn't get the job done, leaving stains. We knew we could do better. So we developed a formula with the perfect balance of powerful -- yet safe -- ingredients designed to remove tough, set-in stains while remaining gentle on luxury linens. Please contact us at (800) 977-1841 or visit our store or email us with any product feedback or cleaning questions.