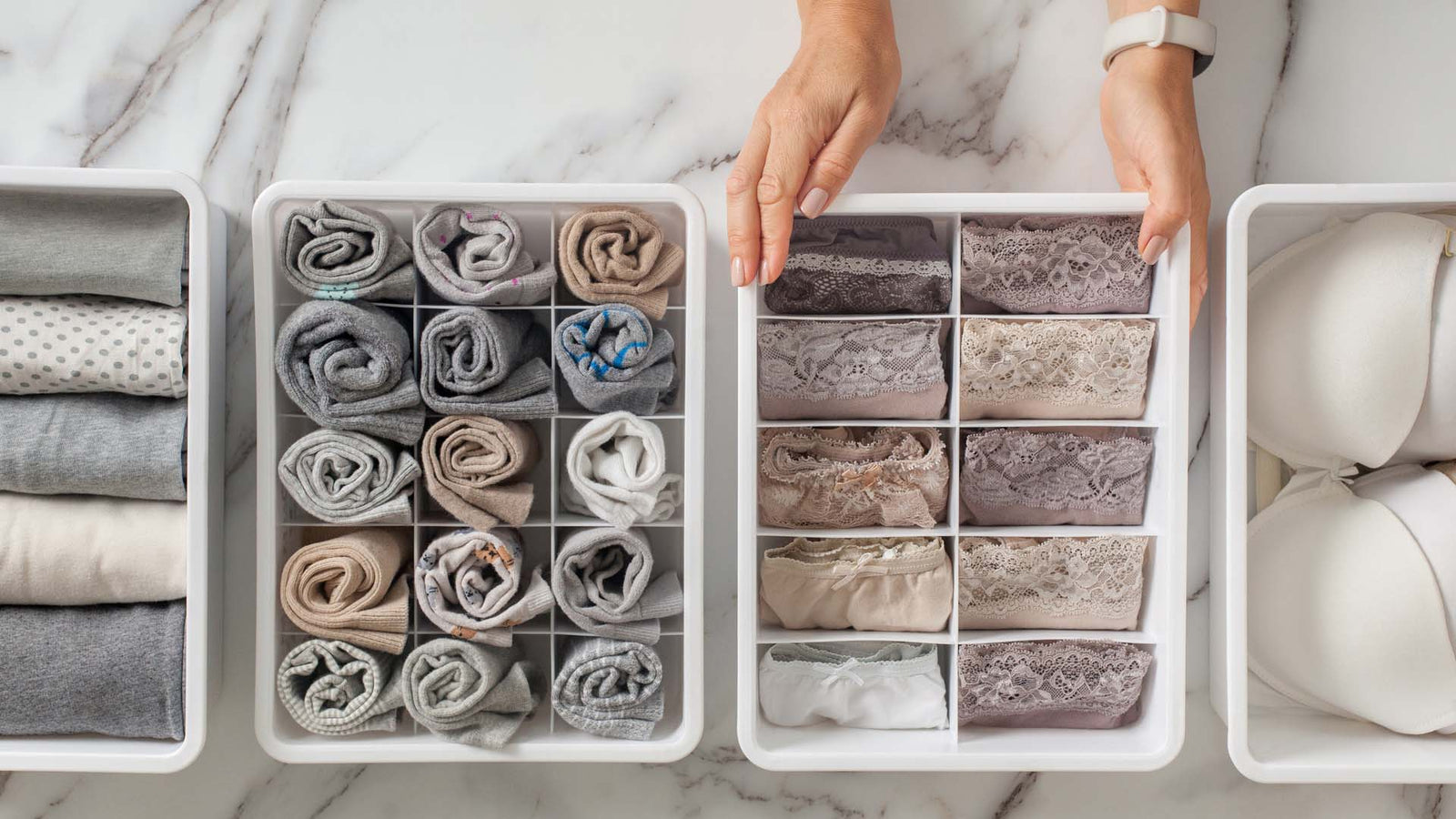 This article outlines simple steps for making your laundry routine more effective and efficient in 2023.
Happy New Year from the Clean Team at Heritage Park Laundry Essentials! There's something about a fresh year that inspires us to set goals and tackle tasks we've been putting off. And -- if you're like most of us -- you have a hard time knowing where to start. Or, you take on too much and quickly wind up overwhelmed.
But it doesn't need to be that way, especially when it comes to laundry. Here at Heritage Park, we are all about simplifying and streamlining your laundry routine. To get you started, we've come up with a great list of "2023 Laundry Resolutions" that will make doing laundry easier, more efficient, and less of a chore. The best part? You can do one, do them all, or pick and choose what works for you. No judgment -- anything that makes your laundry and life easier is a win!
1. De-clutter Your Laundry Room
This is a big one for us. Somehow, our little laundry closet has become the mother-ship to random items floating around the house (light bulbs, half-used sunscreen, hot rollers, to name a few). We say 2023 is the year to reclaim your space! Of course, if you need storage, that's one thing. But if you don't use it, don't need it, and can't remember why you put it there in the first place, get rid of it. It's quite liberating, and you'll free up space that can be put to much better use (in our case, we've opened up a little corner for setting up our iPad to watch the news while we fold). And that pile of odd socks you've been babysitting for a year? Consider this your permission to throw them out and don't look back.
Save more space by ditching the traditional, cumbersome ironing board and replacing it with one of these sleek wall-mounted styles!
And while we're ditching cumbersome things, we LOVE this cordless iron:
2. Ditch Your Fabric Softener (and Dryer Sheets)
Seriously, these need to go. Along with being laden with chemicals, fabric softener leaves a waxy film on clothing, towels, bed linens, and even the inside of your machine. Over time, it can coat and ruin the absorbency of even the finest bath towels. (If this is your situation, learn how to restore your towels here). The same goes for dryer sheets. Get rid of them, and replace them with a set of pure wool dryer balls that soften clothing and speed up drying time without any damaging chemicals. Learn more about why it's time to replace your dryer sheets with wool dryer balls here.
3. Read Labels
Okay, so this may be a tiny bit of work. But we promise you, it's worth it. Carefully read the labels of any laundry detergent or product you use on your clothes, towels, and bedding. It's quite eye-opening when you see the long list of ingredients used in most commercial detergents. Just as troubling? How much water they contain! This is a waste of both water and resources. Heritage Park All-Purpose Laundry Detergent is a concentrated, pH-neutral formula that contains just water and nine plant-based ingredients. Our fragrance-free formula is certified hypoallergenic and dermatologist- and pediatrician-tested. All of our detergents are Leaping Bunny Approved, signifying no animal testing, and made in small batches in a Sedex certified facility, which reflects our commitment to responsible sourcing, supply chain transparency, and sustainable and responsible business practices.
And while you're in the reading mood, be sure to check out the care label guidelines for any garment or linen. Here's a helpful guide to deciphering laundry symbols on care labels.
4. Choose the Right Detergent
Of course, we recommend Heritage Park All-Purpose Detergent for regular washing of clothing, towels, and bedding. It is concentrated, environmentally friendly, and made with plant-based ingredients (check out our label and stewardship guidelines). And while Heritage Park is gentle on even the finest fabric, it also contains a proprietary blend of enzymes that are made to tackle every kind of stain. Much like the digestive enzymes in saliva, laundry enzymes work together to break down and remove different types of protein-based stain compounds. You can learn more about how laundry enzymes work here.
However, if you are laundering washable wool, silk, cashmere, or other protein-based fiber, an enzyme detergent is not the best choice; remember, enzyme detergent breaks down proteins and the fibers in these fabrics are made from protein. In this case, we suggest our Silk and Wool Detergent, a gentle, enzyme-free formula made to clean and protect protein-based fabrics.
5. Set up a Stain Station
When it comes to treating stains, the key is to act fast. Of course, that's not always possible. But you should set yourself up for success by preparing an area with stain removal tools like an enzyme spray (buy a commercial brand or make your own in a spray bottle with a 1:1 solution of water and our All-Purpose Detergent); a plastic tub or bucket; a dedicated laundry brush (this can just be a soft-bristled toothbrush); and lint-free cloths or white towels for blotting. You can also use our detergent as a concentrated pre-soak for any stains. And while we don't recommend washing silk or wool with an enzyme detergent, you can, on a limited basis, use an enzyme pre-treatment or pre-soak to remove stains on these fabrics. Read about how to remove common stains here and must-have stain-treatment tools here.
6. Sort it Out
(Your laundry, that is). We recommend sorting your laundry by color - whites/lights, darks, and colors - and by weight for efficiency and to prevent damage. Always wash towels in their own load; similarly, delicate linens like washable silk belong in a single load. If you've got the space, buy three laundry baskets and sort as you go (pro tip: even kids can get in on the act and sort laundry, so recruit your little people as helpers). I personally have and love this rolling sorter with removable bags!
7. Clean Your Washing Machine
One of the greatest things about modern washing machines is how efficient they are, especially HE front-loader models. The downside? Over time, they tend to grow a moldy, musty smell. With a few simple steps, you can banish that unpleasant smell and keep your machine (and laundry) smelling sweet and fresh. Learn how to clean your machine here.
You can use a washing machine cleaner like one of these:
8. Master Laundry Settings and Cycles
Every model is different, but today's washing machines have one thing in common: a variety of settings, temperatures, and cycles designed to make your job easier. So take advantage of all your machine offers by mastering the cycles and settings to best meet your needs. Sure, you may wash on "permanent press" most of the time, but the day might come when you (like us) discover your machine actually has a soak cycle that can be used to remove a stubborn stain. Trust us: learning about your machine is time well spent. Check out our blog on washing machine settings and cycles here.
9. Invest in Some Mesh Laundry Bags
A fine mesh wash bag is perfect for protecting your delicate laundry, including lingerie, hosiery, workout wear, delicate linen, silk bedding, swimwear, baby clothes, and more. These items are particularly vulnerable to pulling, wrapping around the agitator mechanism, and snagging and tearing on metal burrs inside your machine. Even buttons and zippers can even cause damage, A mesh laundry bag eliminates those worries by protecting your delicate items through the wash cycle. Read more about mesh laundry bags here.
10.Dedicate Space to Hang- and Air Dry Your Laundry
Dryers are awesome, and we really couldn't do without them. But some things, like silk sheets and washable wool sweaters, are not made for the dryer. These items should be dried flat, in the case of sweaters, or hung to dry indoors or outside away from direct sunlight. And while clothes dryers are convenient and necessary, the fact remains that delicate fabric will last longer if it is not exposed to high heat. Even high-quality cotton sheets and towels, which grow softer with washing, should only be dried in warm temperatures (never hot). When in doubt, air it out!
This convenient fold-able laundry rack is an easy, space-saving way to dry items safely.
We hope you're finding these suggestions helpful and useful. As always, feel free to give us a call with any questions or concerns. We are here and happy to help!
Heritage Park Laundry Essentials
At Heritage Park, caring for fine fabric is our passion. As lifelong collectors of luxury sheets, towels, and cloths, we found many commercially available "gentle detergents" either damaged our fabrics or didn't get the job done, leaving stains. We knew we could do better. So we developed a formula with the perfect balance of powerful -- yet safe -- ingredients designed to remove tough, set-in stains while remaining gentle on luxury linens. Please connect with us at (800) 977-1841 or visit our store or email us with any product feedback or cleaning questions.