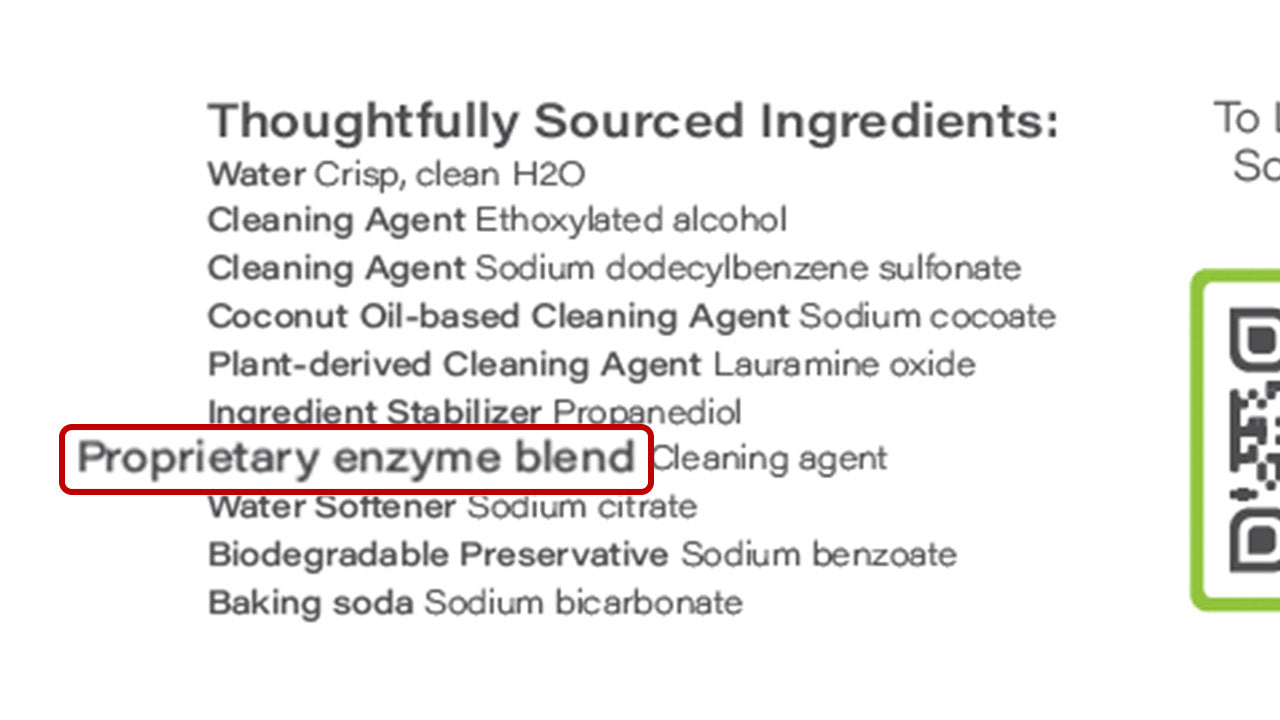 In recent years "biological detergents" have become increasingly popular among manufacturers of both specialty and conventional detergents. This article explains exactly what biological detergents are; how and when to use them; and -- just as important -- when to use a nonbiological laundry detergent instead.
Understanding Biological vs. Non-Biological Detergent
It's no secret that all of us here at Heritage Park are big-time laundry lovers: finding gentle, effective ways to get your fine washables and home linen clean is our business and our favorite pastime.
As such, we pride ourselves on keeping you up to speed with the latest in laundry science. Over the past decade, you've likely heard the term "biological detergent" or "bio detergent". These formulas have become increasingly popular and very widely marketed by both large consumer product companies and specialty brands. But understanding exactly what a biological detergent is and how it works can be a bit mysterious.
The Heritage Park Laundry Essentials team can help clear things up. Read on to learn everything you need to know about biological detergents.
What is Biological Detergent?
A "biological detergent" or "bio detergent" is, quite simply, a detergent that contains enzymes to break down tough stains. And while biological detergents have grown popular in recent years, the formula has actually been around for more than half a century, with the earliest biological washing powder being invented in the late 1960s.
So what's in a biological detergent? These detergents (formerly powder detergent, now mostly liquid formulas) contain cleaning enzymes, special proteins that act as a catalyst to effectively break down and remove tough stains. Stains come in many forms and types, including proteins, starches, and lipids; in fact, most stains are actually a combination of these. Think of laundry enzymes as position players in the stain fighting war going on inside your washing machine; each works on a different type of stain, or specific component of a stain. which enables the surfactant in the detergent to clean the fabric.
About Heritage Park All-Purpose Laundry Detergent (A Biological Enzyme Formula)
Heritage Park All-Purpose Laundry Detergent is formulated to effectively clean delicate fabrics including cotton, linen, and synthetics, while preserving their beauty and integrity. Our concentrated liquid laundry detergent contains a proprietary blend of stain-removing enzymes, including:
Protease to target protein. Protein is found in stubborn stains like sweat, blood, grass, chocolate, dairy products and milky drinks like tea, coffee and chai. Note: many fabrics -- including silk, wool, and cashmere -- are protein based; the quality of the fabric can be degraded by enzymes. See our section on nonbiological detergent below for more information).
Amylase to target starch.Starch is everywhere! It is commonly used to thicken foods from ready-made sauces and baby foods to dressings and desserts. Starch acts as a "sticky" glue for dirt and other particles both in the air and in wash water.
Pectate Lyase to target pectin. Pectin is another form of starch that is naturally occurring in our favorite fruits, including berries, bananas and avocados, as well as many vegetables. Pectin can also be used to thicken jams, jellies, and yogurt and is even found in some cosmetics!
Mannanase to target gum. Guar and locust bean gums can be found in a wide range of foods, including ice cream, mayonnaise and salad dressing. They're also a common ingredient in personal care products like toothpaste and body lotions.
Lipase to target fat, oil and grease. Along with inherent animal fats, many of our favorite foods are cooked in oils such as peanut, sunflower, olive and sesame. These greasy stains can quickly become permanent without an enzyme to break them down.
Enzymes: Working Together to Remove Stubborn Stains
Our enzymes work as a team to clear paths for one another, this boosts their collective power and allows the surfactant to do its job of stain removal. The result is outstanding performance tackling a wide range of everyday stains, while maintaining color integrity and brightness. You can also use Heritage Park All-Purpose Laundry Detergent to pre-treat and pre-soak any stains on washable fabric. Read more about how enzymes break down and dissolve stains here.
What Is Non-Biological Detergent?
A non-biological laundry detergent is one made without any enzymes. While added enzymes can increase the cleaning and stain removal power of a liquid detergents, there are some washable fabrics that should NOT be cleaned with enzymes. These include a variety of fabrics and fibers:
Silk
Wool
Cashmere
Leather
Fur
Feathers
All of these fabrics are protein-based. As we noted above, biological detergents typically contain the protease enzyme, which targets protein-based stains. Over time, washing these fabrics with an enzyme detergent will degrade the look, feel, and integrity of the fabric.
Heritage Park Luxury Silk and Wool Detergent is specially formulated to clean and care for these luxury fabrics without damaging them. This concentrated laundry liquid can be used for both hand- and machine washing wool, silk, cashmere and more. Of course, always follow manufacturer care labels and NEVER use bleach or fabric softener of any kind on these fabrics.
A Word About Biological Laundry Detergent and Gentleness
As we close, we'd like to clear up a misconception about biological laundry detergent and gentleness. Whether or not a laundry soap contains detergent enzymes has no bearing whatsoever on whether it is gentle on clothing or good for sensitive skin. The enzymes in a bio laundry detergent do not by themselves contribute to skin irritation. What makes a laundry detergent gentle is having a neutral pH (neither too acidic nor basic) and being made without heavy-duty chemicals. In fact, our gentlest formula laundry detergent -- Heritage Park Baby and Toddler Laundry Detergent -- also contains powerful cleaning enzymes, which are essential for removing stains from baby clothes, including food, body fluids, and breast milk.
All Heritage Park Laundry Essentials detergents are made with thoughtfully-sourced ingredients that are safe, plant-based, and limited in number. Our detergents contain no phosphates, sulfates, chlorine bleach, or brighteners; they are dermatologist tested and hypoallergenic. Read more about our ingredients here and our Stewardship Guidelines here. Whichever Heritage Park detergent best suits your laundry needs, you can feel secure and confident that the formula will be effective, gentle on your clothes and linens, and safe to use.
Biological Detergent

Non-Biological Detergent

Heritage Park All-Purpose Laundry Detergent

Heritage Park Baby and Toddler Detergent

Heritage Park Silk and Wool Laundry Detergent

Proprietary enzyme blend (five-enzyme formula)

No enzymes

Free from phosphates, sulfates, chlorine bleach, optical brighteners

Free from phosphates, sulfates, chlorine bleach, optical brighteners

Hypoallergenic, dermatologist tested (Fragrance-free formula)

Hypoallergenic, dermatologist tested (Fragrance-free formula)

All temperature

All temperature

Hand or machine wash

Hand or machine wash

Cruelty free (Leaping Bunny approved)

Cruelty free (Leaping Bunny Approved)

Biodegradable, safe for septic tanks

Biodegradable, safe for septic tanks
Heritage Park Laundry Essentials
At Heritage Park, caring for fine fabric is our passion. As lifelong collectors of luxury sheets, towels, and cloths, we found many commercially available "gentle detergents" either damaged our fabrics or didn't get the job done, leaving stains. We knew we could do better. So we developed a formula with the perfect balance of powerful -- yet safe -- ingredients designed to remove tough, set-in stains while remaining gentle on luxury linens. Please connect with us at (800) 977-1841 or visit our store or email us with any product feedback or cleaning questions.