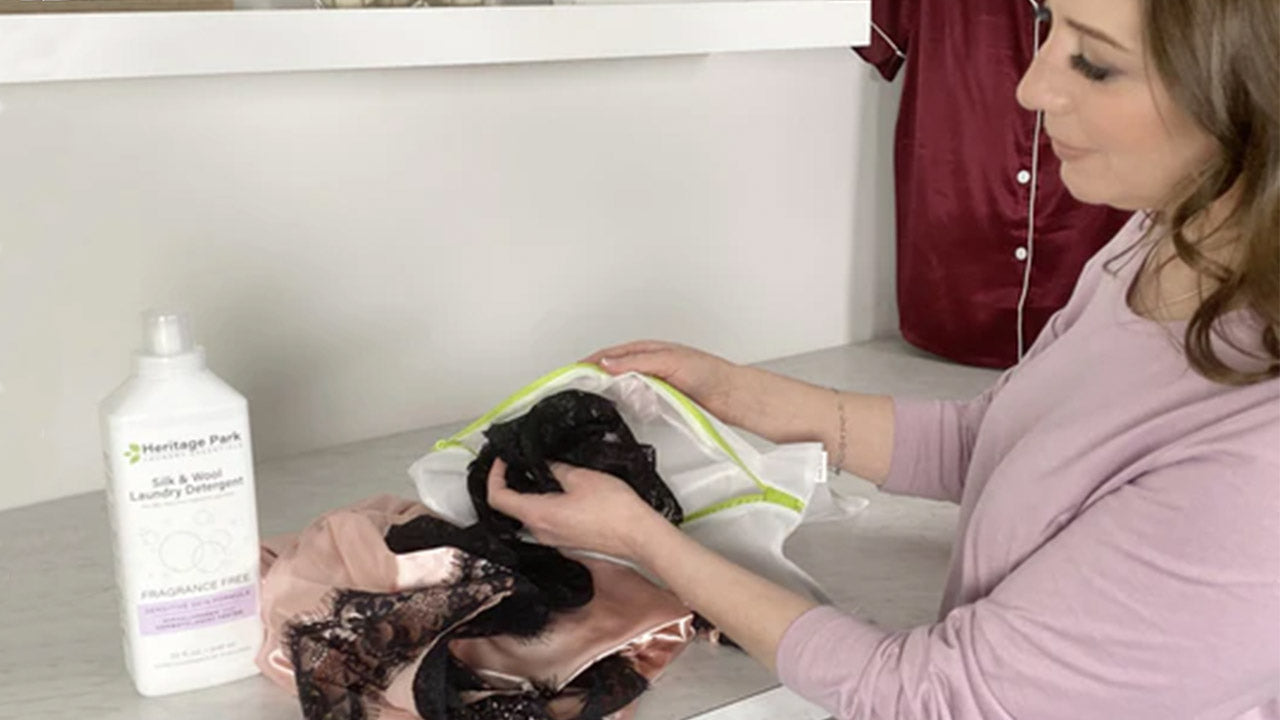 Expert Silk Stain Removal Tips
If your silk clothing and bedding is washable, congratulations! Washable silk is definitely a win that can save you time and money. But treating stains on these silk items can be intimidating and tricky. You want to remove the stain without harming the fabric or causing the color of your silk bedding or clothing to run.
Heritage Park Laundry Essentials is here to provide tips for removing stains from silk. Before you begin, be sure to read and follow the care label for silk bedding and clothing; if your item says "dry clean only," take it to a professional cleaner. Read on for some general tips on silk stain removal as well as guidance on handling specific types of stains.
Simple Steps for Removing Stains from Washable Silk
Act quickly. With any stain, time is of the essence. You want to treat it before it has time to "set" in the fabric.
Blot as much of the stain as possible with a clean white towel, paper towel or other clean cloth.
Make a solution of a few tablespoons of lukewarm water with a few tablespoons of either lemon juice or white vinegar. Always test the silk fabric for color fastness in an inconspicuous spot like the inside of a hem.
Begin spot cleaning the stain. Soak a clean white cotton cloth or a cotton ball in the solution and gently dab from the back of the fabric as if you're trying to push the stain out the way it came in. Never rub the fabric, as it can cause the stain to spread.
Rinse the entire item thoroughly in cool water and launder as usual using a detergent specially formulated for silk like Heritage Park Silk & Wool Detergent. Lay flat to dry out of direct sunlight.
How to Remove Food and Cosmetic Stains from Silk
If you have a stubborn stain caused by food or cosmetics, the process outlined above may not be sufficient. Removing a food or makeup stain from silk requires a bit of education into the chemistry of stains. Many of these types of stains -- especially food—are composed of a combination of proteins, starches, gums, and oils. A tea stain or coffee stain, for example, may be removed by running the silk under warm water; however, coffee or tea with milk in it is a different story, as milk stains are protein based. Another example of compound stains would be chocolate stains, which contain protein, starch, and gum. Some of our favorite foods -- hamburgers, pizza, french fries -- leave a grease stain that is also a combination stain.
If you find yourself with a stubborn food stain, we recommend preparing your own stain remover using a capful of our enzyme-based Luxury All-Purpose Detergent mixed with lukewarm water in a spray bottle. Spray the stain from both sides with the solution and let it sit for at least a half-hour; launder as usual with a detergent specially made for washing silk. If the stain is large, you can soak the entire garment for up to an hour.
Please note: Heritage Park Luxury All-Purpose Detergent contains enzymes, and should NOT be used for regular or routine washing of silk, as the enzymes can, over time, degrade the fabric. You can learn more about enzyme-based detergentand how enzymes work to tackle stains here.
Removing Blood, Sweat and Biological Stains from Silk
Biological stains such as blood and sweat are largely protein based. For these types of stains, we recommend trying a couple of different strategies before using the enzyme-based solution we discussed above. For blood stains, your first line of defense should be cool to cold water; place the item under the faucet and run water through the reverse side to "force" the stain out. Cold water is very effective on blood; if need be, follow up with an enzyme solution made of Heritage Park Luxury All-Purpose Detergent and cold water. To remove a sweat stain, we recommend starting with a solution of white vinegar and water and spot treating or soaking the item; if that does not work, perspiration stains should respond to treatment with enzyme-based detergent and water.
For other biological stains such as vomit, scrape off excess material and spray or soak the silk item in a solution of enzyme-based detergent and warm water. You may also choose to use a commercial stain remover for these types of stains; however, make sure to choose a formula that is safe to use on silk.
Important Things to Know About Washing Silk
Taking care of washable silk is relatively easy. However, silk is different from other fabrics and needs some special attention. Here are some things to keep in mind with washable silk:
Silk is a delicate fabric.If you are machine washing silk, you should use a delicate cycle and cool water. The Heritage Park team recommends placing washable silk items in fine mesh laundry bags; these bags protect your silk sheets, silk pillowcase, and silk clothes from snags or tearing in the wash.
Washing silk requires special laundry detergent. You should choose a detergent specially formulated for washing silk and other protein-based fibers. Regular commercial detergents are too harsh for silk. You also don't want to use an enzyme-based or biological detergent for routine washing of silk. As we mentioned above, enzymes are great for tackling protein-based stains because they dissolve protein; over time, these formulas can degrade the look and feel of silk fabric.
Never use bleach or fabric softener on silk. Any type of bleach -- chlorine bleach or oxygen bleach -- has the potential to fade color from silk. Fabric softener is also totally unnecessary.
Never put a silk garment or silk bedding in the dryer. Excessive heat can damage silk fibers. Silk should be laid flat or hung to dry away from direct sunlight.
Check out our comprehensive directions for washing silk sheets here. Wool is another protein-based fabric that requires similar care to silk; read about taking care of washable wool here.
Finally, remember to ALWAYS follow the manufacturer's care guidelines and test any treatment on an inconspicuous area.
Heritage Park Laundry Essentials
At Heritage Park, caring for fine fabric is our passion. As lifelong collectors of luxury sheets, towels, and cloths, we found many commercially available "gentle detergents" either damaged our fabrics or didn't get the job done, leaving stains. We knew we could do better. So we developed a formula with the perfect balance of powerful -- yet safe -- ingredients designed to remove tough, set-in stains while remaining gentle on luxury linens. Please connect with us at (800) 977-1841 or visit our store or email us with any product feedback or cleaning questions.