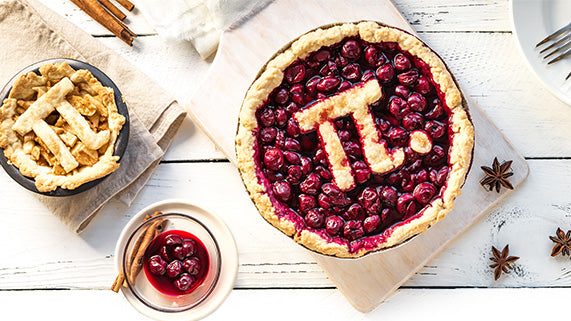 You don't need to be a math geek to get in on the Pi Day fun! This article talks about why Pi Day is a popular time to celebrate math and eat pie. It also offers helpful suggestions for cleaning up after the party.
Happy Pi Day from Heritage Park Laundry Essentials! For the uninitiated, indulge us a bit as we salute Pi, that magical numerical constant of 3.14. And there's no better day for celebrating this number than -- wait for it -- March 14.
As self-proclaimed laundry nerds, the Heritage Park Clean Team are proudly math- and science adjacent. (After all, we have been known to go on for a bit about the exact science behind our amazing detergents, including why enzymes work so well to dissolve stains.) In the spirit of learning, we are happily taking a minute to salute Pi in all its mathematical, mysterious, and infinite glory. 
Read on for a quick look at the history of Pi Day, including why we celebrate with pie and tips for removing messy post-party stains.
What's the Big Deal with the Number Pi (π)?
To understand the marvelous mysteries of Pi -- or π as it is expressed as a Greek letter -- we're flashing back to the ancient Greece mathematician Archimedes. He calculated that the ratio of a circumference to the diameter of a circle is always a constant number: 3.141592, commonly shortened to 3.14. Now fast forward to high school geometry, where we use π for, among other things, calculating the circumference and area of circles; the volume and surface of spheres; the volume of cylinders; and complex scientific applications such as waves, oscillations, electromagnetism, and more.
Practical value aside, Pi holds endless fascination for mathematicians who spend time calculating its digits with ever-increasing precision. The actual value of π is an infinite number but with supercomputers, the value of Pi has been calculated to more than 31 trillion decimal points. 
A Day to Celebrate Math…and Eat Pie!
The first official celebration of Pi Day was organized by physicist Larry Shaw in 1988 at the San Francisco Exploratorium. The idea was to celebrate the fun and quirky side of math and eat pie! Pie Day has grown into a global phenomenon with math lovers around the world celebrating with pie-eating contests, math games, quizzes, and contests. The Federal government even got in on the fun with the House of Representatives officially recognizing March 14 as National Pi Day in 2009. (Fun fact: March 14 is also Albert Einstein's birthday!) If you're looking for inspiration, the Internet is filled with lots of ideas for Pi Day parties, including recipes galore. Even though berries are a little out of season, our plan is to feast on our favorite blueberry pie (recipe below) piled high with vanilla ice cream.
The Perfect Blueberry Pie Filling Recipe for Pi Day (or any other day!)
Yield: One delicious pie
Prep Time: 15 minutes
Total Time: I hour, 15 minutes
Ingredients
3 pints blueberries, washed
1 ¼ cup sugar
¼ cup flour
¼ cup lemon juice
½ teaspoon salt
Pie crust
Directions
Preheat the oven to 400°.
Butter and flour pie plate and gently press into the bottom crust.
Mix blueberries, sugar, flour, lemon juice and salt in a bowl. Spoon into bottom crust and cover with top crust. Fold bottom and top crust together and press with tines of fork to seal. Make four small slits in pie to allow steam to escape.
Bake at 400° for 15 minutes.
Turn temperature down to 350° and bake for 45 to 50 additional minutes. You may wish to tent or cover outer crust to prevent too much browning.
Cool before serving.
Clean Up Is Easy with Heritage Park All-Purpose Detergent
We always say that it's not a party until something gets spilled. That goes double for Pi Day, when gooey delicious fillings –from chocolate, fruit and toffee to pizza, eggs, and gravy -- own the day (yes, savory pies are also a great option for your Pi Day menu). 
No matter the stain, Heritage Park All-Purpose Detergent has you covered at clean-up time. Our concentrated, pH-neutral detergent is made to effectively clean clothes and home linen while protecting delicate fabric. And we're not afraid of stains! Our formula contains natural, plant-based ingredients including a proprietary enzyme blend that is made to break down and remove tough stains. You can learn more about how enzymes work here.
In fact, our enzyme blend contains a variety of laundry enzymes, each of which break down a specific type of stain:
Protease (Subtilisin): Attacks protein stains like egg, milk, mud, grass, blood, body fluids.
Alpha-amylase: Breaks down starches from gravy, cereal, or pasta.
Pectate Lyase: This enzyme attacks pectin stains, which are left by fruits and vegetables (think: fruit filling in pie!).
Lipase: Targets fats or lipids in greasy food stains like butter, oil and oil or certain cosmetics 
Mannanase (Mannan endo-1,4-beta-mannosidase): Takes on the sugar used in ketchup and ice cream and personal care products like deodorants
You can use Heritage Park All-Purpose Detergent to pre-treat or pre-soak your laundry; you can even make a concentrated enzyme solution with a 1:1 ratio of detergent and water in a spray bottle. Note: not all fabrics should be washed with enzyme detergent, which breaks down protein. Some fabrics like silk, wool, and cashmere are protein-based; for regular laundering of these items, use an enzyme-free detergent formula like Heritage Park Silk and Wool Detergent.
No matter which formula you choose, Heritage Park detergents contain no dyes, phosphates, sulfates, chlorine, bleach, or optical brighteners. These can all be damaging to fabrics made of any material as well as being an irritant to the skin. We use only ingredients that are clean, safe, and necessary to clean and care for your laundry. 
Of course, we are more than happy to answer any questions about our products and/or laundry care. Reach out to us via email or phone. We are here to help! 
Heritage Park Laundry Essentials
At Heritage Park, caring for fine fabric is our passion. As lifelong collectors of luxury sheets, towels, and cloths, we found many commercially available "gentle detergents" either damaged our fabrics or didn't get the job done, leaving stains. We knew we could do better. So we developed a formula with the perfect balance of powerful -- yet safe -- ingredients designed to remove tough, set-in stains while remaining gentle on luxury linens. Please connect with us at (800) 977-1841 or visit our store or email us with any product feedback or cleaning questions.