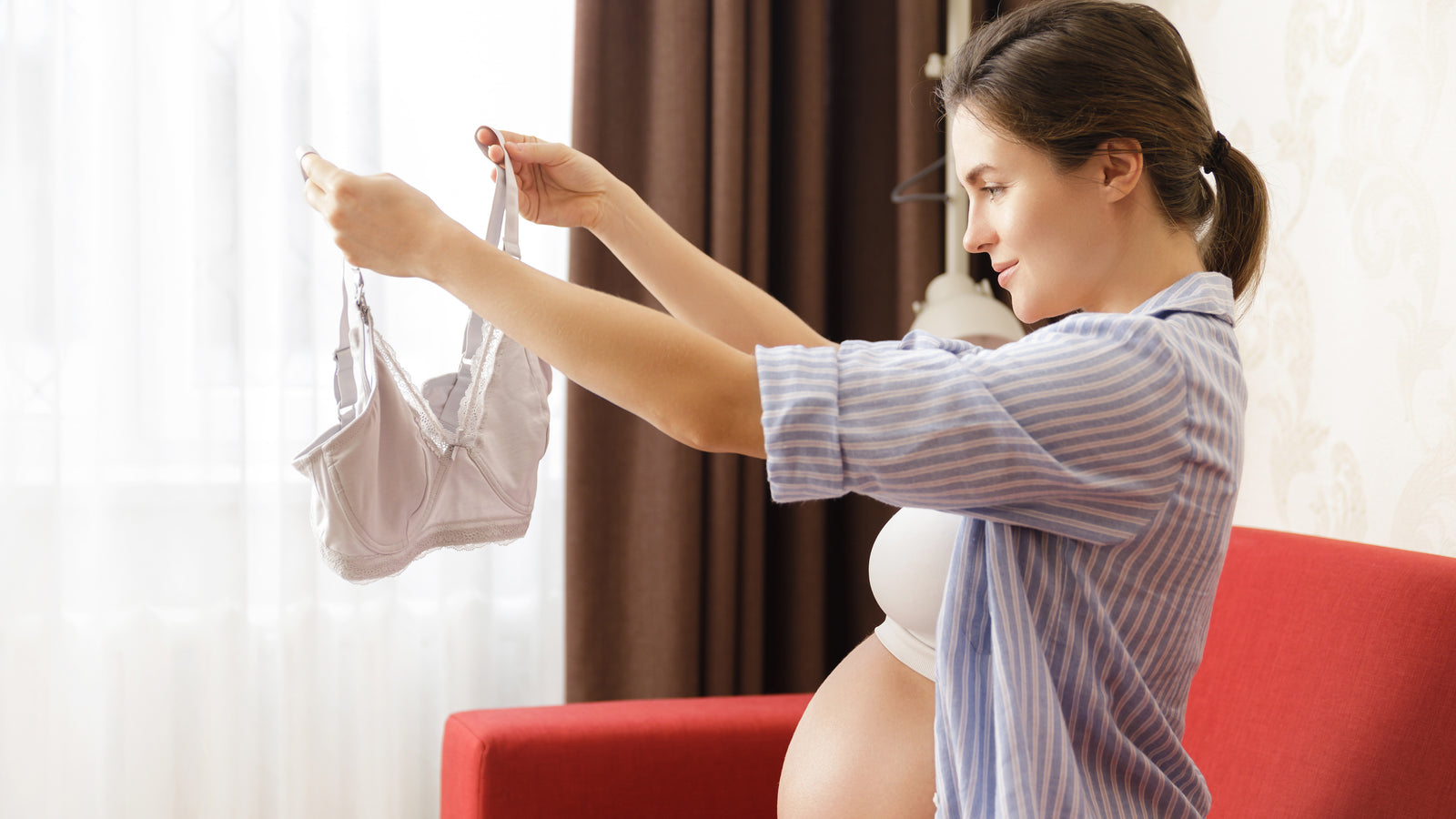 A nursing bra has a different design than a regular bra and requires a bit of extra care. This article discusses how to care for your nursing bras, including the importance of regular washing and how to choose the best detergent.
Nursing Bras: Simple Care for an Important Garment for New Moms
If you're a nursing mom currently pumping or breastfeeding your baby, you've likely become well acquainted with nursing and pumping bras. A nursing bra is designed with openings that allow your baby easy access to your breast at feeding time. Fortunately, nursing bras are available in a number of different designs, many of which offer major style upgrades compared to years ago. Today's moms can choose a classic nursing bra that opens with snaps or clips; a wireless nursing bra; an underwire bra to support large breasts; a nursing sports bra; a nursing sleep bra; and even a pumping bra made to easily accommodate the flanges of a breast pump. Most have adjustable straps and some have a removable breast pad in each cup to protect against leaking breast milk.
Selecting the best nursing bra comes down to a matter of personal preference. La Leche League International, a nonprofit organization that advocates for and supports breastfeeding, recommends selecting a comfortable breastfeeding bra. Your nursing bra should accommodate your breast size both while full and after nursing or pumping, so adjust-ability is a must. It should fit well without being too tight; this can compress breast tissue and cause soreness and issues such as a clogged milk ducts. Many maternity shops offer specialized bra fitting services to help you pick the best fitting nursing bra in the right band size and cup size for you. 
A well-made nursing bra can cost $50 or more. They range in styles from soft cotton that are meant for sleeping and lounging in to more elaborate designs finished with lacey details. These garments are a necessary investment and require just a bit of extra attention to wash and care for.
While on my own breastfeeding journey, I was pleasantly surprised that Victoria's Secret has finally entered the nursing bra game! I had to try one out and quickly went back fro a couple more in different colors. The snap closure is easy to do one handed, a must have feature as we all know. The couple of styles I tried were very comfortable, flattering and made me feel good as not just a nursing mama, but as a woman - something new moms can struggle with at times. 
Another must-have to stock up on, and a great thing to add to your registry, are nursing pads. Whether you opt for eco-friendly, reusable ones of one of the many disposable options, these will help to protect your bra from stains.
I personally like these bamboo ones that are individually wrapped, easy to toss in your purse or diaper bag, and super soft!
Below we'll show you how to get your nursing bras clean and keep them performing beautifully without irritating your own -- or your baby's – sensitive skin!
The Importance of Washing Nursing Bras Regularly
While there is no hard and fast rule regarding wash intervals, when it comes to nursing bras, we recommend washing your nursing bra after wearing it -- at most -- twice. This is a bit more frequently than you would wash a regular bra, but there are important reasons for this:
Nursing bras get wet, typically from breast milk but also from sweat (mom and baby) and baby's saliva during feeding. 
A damp, dark environment leads to the growth of bacteria and -- more commonly -- yeast. Yeast and bacteria are always present on our skin. However, they can overgrow under the right conditions and cause complications for mom and baby.
A yeast infection on the nipple or breast is called thrush; this is a type of fungal infection that can cause nipple cracks and pain. Thrush can also be transmitted to the baby's mouth (oral thrush) and even through their digestive system to their bottom where it causes a rash. Thrush is not itself a major danger and can be treated with topical and oral antifungal medication. However, it is uncomfortable and can be quite persistent as it is transmitted back and forth between mom and baby.
Washing a nursing bra regularly minimizes the conditions that promote thrush and bacterial growth, as well as skin irritation that can come from build-up of moisture and bacteria. Remember, your baby's face is nestled right there!
Washing your nursing bra after every wearing is also okay. After all, you would wash a sports bra after one wearing.
Choosing the Best Detergent to Wash Your Nursing Bras
Choosing the right detergent to wash your nursing bras is absolutely essential. You want a detergent that is effective on dirt and stains yet gentle on skin and fine fabric. You should also choose a biodegradable, hypoallergenic, non-irritating formula that is free from any fragrance or dyes. A nursing mother's breasts are even more sensitive than usual, and any harsh chemicals or added fragrance can irritate both mom and baby.
We recommend our Heritage Park All-Purpose Laundry Detergent for hand- or machine washing your nursing bras. This concentrated, pH-neutral formula is designed to safely and gently clean fine fabrics without causing damage or irritating skin:
Gentle on fabrics and your skin, yet powerful enough to eliminate the tough odors and set-in stains other gentle detergent brands can leave behind
Made with natural and naturally sourced plant-based ingredients, including a proprietary blend of laundry enzymes that target stains, especially biological stains like milk, sweat, saliva, and blood (learn more about how laundry enzymes work here).
Made without any dyes, fragrances, or harsh chemicals that can irritate the skin. Contains no dyes, sulfates, phosphates, chlorine, bleach, or brighteners (learn more about what is NOT in our detergent here).
Fragrance free and hypoallergenic; the pH-neutral formula is gentle on the skin
Biodegradable, concentrated detergent is environmentally friendly (septic and gray water safe)
Cruelty-free. Leaping Bunny approved as never tested on animals
Dermatologist and pediatrician tested. Our All-Purpose formula is safe to use for all of your own and your baby's clothing and linen (and check out our hypoallergenic, fragrance-free Baby and Toddler Laundry Detergent) 
How To Wash and Dry Your Nursing Bras Safely
Follow these easy steps for successfully washing your nursing bras:
Always read the care label before washing your nursing bra. Many nursing bra manufacturers like Cake Maternity, Motherhood Maternity and even Victoria's Secret say that their nursing and maternity bra collections can be machine washed.
Fasten any nursing clips and remove any nursing pads. 
Pretreat stains (you can use a concentrated solution of HP detergent).
Place your bra (and pads if washable) in a fine mesh laundry bag. A mesh bag will protect delicate fabric from tearing and snagging inside the machine. Learn more about how and why to use a mesh lingerie wash bag here.
Add the appropriate amount of Heritage Park detergent. Never use fabric softener or bleach.
Use a delicate wash cycle and cool or warm water. Hot water can break down fine fabric.
If you are handwashing, fill a sink or clean bucket with cool or lukewarm water. Use half the amount of detergent, add your bra (no need for the mesh bag if hand washing) and gently swish. Leave to soak for no more than five minutes. Rinse thoroughly, don't wring. You can read more about how to hand-wash clothing here. 
Hang your items to air dry away from direct sunlight on a drying rack or dry them on a clean white towel. Avoid putting nursing bras in the dryer, but make sure to allow them to dry thoroughly before wearing or storing them.
Heritage Park is Safe for Your Own AND Your Baby's Clothing and Linens
Going through pregnancy, delivery, and now breastfeeding makes one thing clear to moms: you and your baby are a bonded unit! If something affects one of you, it affects both of you. This is why choosing the safest, purest, most gentle detergent to clean and care for your nursing bras matters so much. If it touches your skin, it touches your baby's skin, either directly or indirectly. Here at Heritage Park, nothing is more important to us than the health of your family. And so, we welcome you to our family. Take some time to browse our collection of detergents and laundry products.
Heritage Park Laundry Essentials
At Heritage Park, caring for fine fabric is our passion. As lifelong collectors of luxury sheets, towels, and cloths, we found many commercially available "gentle detergents" either damaged our fabrics or didn't get the job done, leaving stains. We knew we could do better. So we developed a formula with the perfect balance of powerful -- yet safe -- ingredients designed to remove tough, set-in stains while gently washing delicates. Please connect with us at (800) 977-1841 or visit our store with any product feedback or cleaning questions.