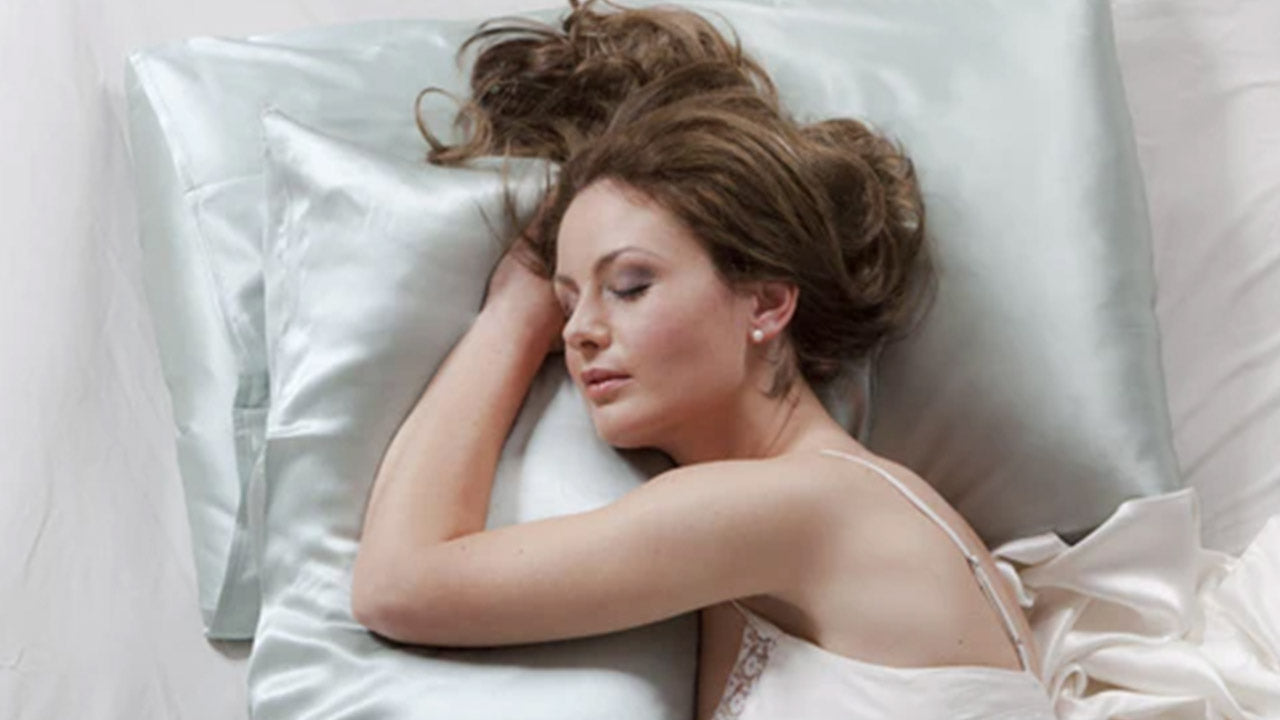 You can wash your Blissy silk pillowcase at home either by hand or in your washing machine. This article will show you the right way to wash a Blissy silk pillowcase to keep it looking and feeling great.
How To Gently Care for Your Blissy Silk Pillowcase
At Heritage Park Laundry Essentials, our mission is to help you enjoy the absolute best, longest possible performance out of your laundered luxuries. If you've recently purchased a Blissy silk pillowcase, you know that -- along with being beautiful and comfortable -- it was quite an investment. You want that pillowcase to last and stay lovely for as long as possible, and that means taking proper care of your silk pillowcase.
Tips for Washing Your Blissy Pillowcase
Fortunately, your Blissy pillowcase is machine washable, and Heritage Park Laundry Essentials is here with the guidance and instructions you need. The pure mulberry silk in Blissy pillowcases requires a bit of special care. We'll show you exactly how to wash your Blissy pillowcase; offer general instructions for washing silk; and explain why you should only use certain types of laundry detergent.
Washing Your Blissy Silk Pillowcase: Can be Done by Hand or in the Washing Machine
Washing pure silk can feel a bit intimidating. But washing your silk pillow cover is fairly simple. You can hand wash your Blissy silk pillowcase or run it through your washing machine. We'll outline detailed steps later, but the main thing to keep in mind is that the washing process -- however you do it -- should be as gentle as possible. That means carefully "swishing" your silk pillowcase by hand or laundering on a gentle cycle; protecting your silk from snags and tears in the washing machine with a mesh laundry bag; hanging your silk items to dry; and using a detergent specially formulated for silk.
How Often Should You Wash Your Blissy Silk Pillowcases?
The answer to this is simple: whenever they need it. With the right detergent and care in the laundry, silk pillowcases (and silk bedding and sheets) should be able to be washed at the same intervals you would wash any other bedding, including cotton sheets or a cotton pillowcase. Of course, silk fabric is naturally hypoallergenic, resistant to dust mites, and non-irritating to skin (part of why silk pillowcases are great for beauty sleep) but they still do get dirty.
Steps For Washing Your Blissy Pillowcase In Your Machine
As with any silk garment, silk sheets, or even a silk face mask, you should consult the care label for your Blissy pillowcase before proceeding. However, these guidelines from Heritage Park Laundry essentials have been tested on Blissy and other luxury silk pillowcases, including Mulberry Park Silks and Slip products. Learn more about understanding and interpreting laundry care symbols here.
Wash your Blissy pillowcase prior to using. We know you're excited to get it on your bed, but we definitely recommend a quick wash first.
For machine washing your silk pillowcase, turn your pillowcase inside out (to protect the smooth charmeuse weave) in a silk-only load; use a delicate setting on the machine and cool water. We recommend putting all silk items into mesh laundry bags to protect the delicate fabric from snags, tears, and even metal burrsthat might be inside your washing machine.
Use a detergent specially formulated for silk, like Heritage Park Luxury Silk, Wool, & Cashmere Detergent (we'll explain why this is so important below).
NEVER use bleach or fabric softener on your Blissy silk pillowcase.
Pre-treat stains with a concentrated soak of silk detergent prior to washing.
How to Machine Wash Your Blissy Silk Pillowcase

Detergent

Use a silk-safe gentle detergent like Heritage Park Luxury Silk, Wool & Cashmere

Water Temperature

"Cool" or "Cold" setting

Cycle Type

"Delicate" or "Gentle" setting

Special Instructions

Turn your pillowcase inside out
Wash in a mesh bag
Wash in a silk-only load

Drying

Best method is to use a drying rack (or lay pillowcase flat on a towel) away from direct sunlight
If using a dryer select the "Air Dry" setting for a short amount of time
Do not wring your pillowcase dry

Ironing

Hand-smoothing your pillowcase is better than ironing
If ironing use the Coolest setting available
Heat of any kind is not great for silk
Steps for Washing Your Blissy Pillowcase By Hand
If you're hand washing your Blissy pillowcase, follow these guidelines:
Add a small amount of (two or three tablespoons) of silk-safe gentle detergent to cool water in a silk or wash tub.
Agitate with your hands to mix
Turn your pillowcase inside out. Submerge silk pillowcase in water and gently swish around for sixty seconds or so.
Rinse thoroughly but do NOT wring your pillowcase dry, as this puts unnecessary strain on the silk fiber.
Pre-treat stains with a concentrated soak of silk detergent prior to washing.
How to Dry Your Blissy Pillowcase
Although the Blissy care guidelines say you can put your pillowcase in the dryer on an air-only setting for a bit, we strongly advise hanging your silk pillowcases on a drying rack (or laying them flat on a towel) away from direct sunlight which can fade pure silk.
Should You Iron Your Blissy Pillowcase?
Whether or not to iron a silk pillowcase or bedding is something to be carefully considered. As a general rule, we think hand-smoothing your Blissy pillowcase is better than ironing it. Like your hair, silk is a protein-based natural fiber. Like hair, silk will burn under intense heat. Therefore, caution is the watchword when it comes to ironing your Blissy silk pillowcase. If you are going to iron silk, follow these basic directions:
Use a clean ironing board and a clean iron that has a dedicated silk setting or the lowest possible temperature setting.
Consider ironing your Blissy silk pillowcase when it is still slightly damp.
Turn your silk pillowcase inside out.
Spot test the iron on a less conspicuous area of the fabric to make certain you are not going to burn
Move the iron quickly across the surface of the fabric. Don't use a back and forth movement as that can cause scorching. Do not use steam. Iron only the minimum amount needed.
The Best Detergent to Use for Your Blissy Pillowcase
Silk requires specially made detergent. You should look for a detergent that is not only effective but one that is made WITHOUT any enzymes. Enzyme detergents, also known as biological detergents, have made big news in recent years; detergent manufacturers have learned how to harness the power of cleaning enzymes to tackle specific protein-based stains like blood, egg, dairy, and the like. However, many fabrics -- including silk and wool -- are themselves protein-based; using an enzyme detergent on these fabrics will, over time, break down the fiber and degrade the integrity of the fabric. For this reason, a silk pillowcase should only be washed in an enzyme-free formula specially designed for protein-based fabrics like our Luxury Silk, Wool, and Cashmere Detergent.
Made to clean and protect protein-based fabrics like silk, Heritage Park Luxury Silk, Wool, and Cashmere Detergent is perfect for natural fibers like those in your Blissy Silk pillowcase:
Concentrated formula can be used in regular and HE front-loading machines
Effectively removes stains with plant-based ingredients, no fillers or excess water. We only use a handful of gentle ingredients (fewer than many silk detergent brands!). You can read our ingredient list here and an easy-to-understand explanation of those ingredients here.
Safe and environmentally friendly. Our Luxury Silk and Wool Detergent contains no sulfates, phosphates (optical brighteners), chlorine bleach or caustic chemicals. This is a neutral pH formula that's biodegradable and acceptable for even grey-water systems.
Enzyme-free formula protects silk fabric.
Ethically produced. All of our products are Leaping Bunny approved, with no animal testing through all phases of production. We also use only natural and naturally sourced ingredients. You can read our product stewardship guidelines here.
We would love to welcome you to the Heritage Park family for all your laundry needs. There are other silk detergents on the market, but we truly believe ours provides the best value and care for your silk pillowcases, sheets, and garments. You can read a detailed comparison of Heritage Park and some other silk detergents here.
Of course, if you have any questions about silk care or our products, please contact us at any time.
To reach Blissy directly regarding your silk products or order, contact their customer service department at: (888) 590-9670.
Heritage Park Laundry Essentials
At Heritage Park, caring for fine fabric is our passion. As lifelong collectors of luxury sheets, towels, and cloths, we found many commercially available "gentle detergents" either damaged our fabrics or didn't get the job done, leaving stains. We knew we could do better. So we developed a formula with the perfect balance of powerful -- yet safe -- ingredients designed to remove tough, set-in stains while remaining gentle on luxury linens.